Moberly Appointed ADR Commissioner
Posted on September 5, 2006
Dean Emeritus and Professor of Law Robert B. Moberly has been appointed by Gov. Mike Huckabee to the Arkansas Alternative Dispute Resolution (ADR) Commission. Moberly is one of seven members on the Commission, which is a branch of the Arkansas Supreme Court.
Chief Justice Jim Hannah administered the oath of office to Moberly on Aug. 18. He said Moberly "met the qualifications like a comfortable shoe." The Supreme Court is "pleased and tickled" that members of the Commission give of their time freely, Hannah said.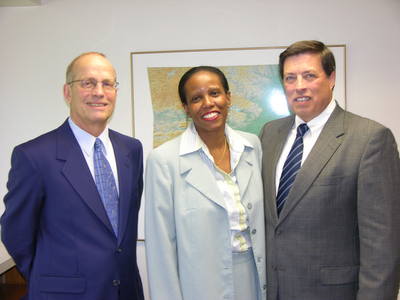 Moberly said the appointment is an opportunity for him to continue his goal of improving the way people solve their disputes, and is a "way of giving back to the state of Arkansas."
The principal responsibilities of the Commission are to encourage alternative solutions to "resolve disputes, cases and controversies of all kinds," according to the ADR Commission Web site. Hannah noted that an important part of its mission is to provide services for the courts when people can't otherwise afford assistance and to train mediators to handle these situations.
Moberly said that the ADR Commission has achieved a great deal since its establishment in 1995, and he hopes to "help improve dispute resolution processes in the courts, government and public at large."
The Commission educates courts, government agencies and the public on alternative dispute resolution. It also regulates mediator certification and trains mediators, negotiators, conciliators and arbitrators for Arkansas courts, among other responsibilities.
Moberly, who has published extensively and teaches in the area of conflict resolution, said that "the appointment allows me to use skills and knowledge I've gained as a mediator, arbitrator and educator to benefit Arkansans."
Moberly's term on the Commission expires in 2011.