UA Professor, School of Law Grad Pens Fantasy Books
Posted on December 18, 2012
By day, Honors College professor Christopher Shields teaches criminal justice courses, manages the Terrorism Research Center in the J. William Fulbright College of Arts and Sciences, and mentors students. At night, he channels a plucky Cuban-Irish teenager, Maggie O'Shea, who is the heroine of his Weald Fae Journals, a fantasy/romance series geared for young adults. Shields will sign copies of the first two titles in the series, The Steward and The Changeling, from 1-4 p.m. this Saturday, Dec. 22, at Nightbird Books. A follow up reading and book signing at Nightbird will take place in January.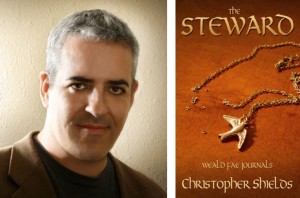 The series is set in the lush landscape surrounding Beaver Lake and follows Maggie, recently relocated from Boca Raton, Fla., as she grapples with magical powers both sinister and alluring, and ultimately takes on the mantle of protecting the sacred land of the Fae. Shields, whose family first settled in Northwest Arkansas more than 150 years ago, was initially inspired by the Ozark tales that his grandfather shared with him.
"He was a storyteller, and he loved Ozark folklore," Shields recalled. "I wanted people to see Arkansas in a positive light – how beautiful it is, and how great the people are. These books are an opportunity to brag about the places that I love."
Shields supplemented his grandfather's folktales with a summer of extensive research on Celtic, English and Scottish fairy lore, and Osage and Cherokee folk tales.
"I was prepping for a serial crime class in the morning, which was very dark, so it was a relief to do research on the fiction book in the evening," Shields said. He has outlined all four books in the series, which will span from 4,500 B.C.E. to the present and encompass local history, such as the destruction of William "Coin" Harvey's Monte Ne resort in 1964. Some scenes are set in Fayetteville, as well: the University of Arkansas recruits Maggie, a talented swimmer, for the Razorbacks swim team.
"There's plenty of woo pig sooiee in there," Shields said.
The first book in the self-published series, The Steward, tops Good Reads' list of "Unknown But Must Be Known" books, ranks fourth on Good Reads' list of "Best Indie Books to Read in 2012," and has garnered enthusiastic reviews on Amazon.com.
"I have fans – I just want a couple of million more," Shields quipped.
Christopher Shields was raised in Prairie Grove, Ark., and earned an undergraduate degree in criminal justice, a master's degree in sociology and a doctoral degree in public policy from the University of Arkansas. He also earned a Juris Doctor from the University of Arkansas Law School and practiced law before returning to the University of Arkansas campus to teach in 2003.
"My first love is still working with students," he said. "Teaching allows me to make a positive impact in their lives, from talking them through a rough patch to helping them figure out their next steps." Shields' academic research focuses on prosecutorial and defense strategies in domestic terrorism trials.
For more information on Christopher Shields' Weald Fae Journals series visit wealdfaejournals.wordpress.com.