School of Law Hosts Trial Competition In Fayetteville
Posted on February 15, 2013
The Regional Championship of the 38th Annual National Trial Competition brings together 22 teams from law schools in Arkansas, Oklahoma, Kansas and Tennessee for three days of mock trials in Fayetteville, hosted by the University of Arkansas School of Law.
Mock trials with local attorneys and other volunteers serving as judges and witnesses are going on in courtrooms all over town this week. Preliminary rounds are Thursday and Friday, with final rounds on Saturday.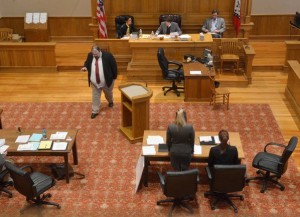 Teams are judged on their performances, and the top two teams will go on to compete in the national competition April 3-6 in San Antonio.
The competition was the focus of an Arkansas Democrat-Gazette story on Friday.