Air Force TJAG to Speak at Law School Commencement
Posted on May 17, 2013
Lt. Gen. Richard C. Harding, The Judge Advocate General (TJAG), Headquarters U.S. Air Force, Washington, D.C., will be the keynote speaker at the 2013 University of Arkansas School of Law Commencement on Saturday, May 18.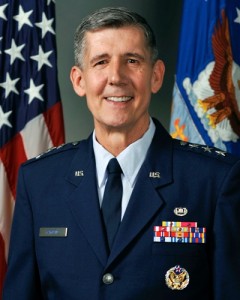 In his capacity as The Judge Advocate General, General Harding serves as the Legal Adviser to the Secretary of the Air Force and all officers and agencies of the Department of the Air Force. He directs all judge advocates in the performance of their duties and is responsible for the professional oversight of more than 2,200 judge advocates, 350 civilian attorneys, 1,400 enlisted paralegals and 500 civilians in the Total Force Judge Advocate General's Corps worldwide. General Harding oversees military justice, operational and international law, and civil law functions at every level of command.
General Harding, the son of an Air Force officer and grandson of a Naval officer, entered the Air Force with a direct commission in 1980. Since that time, he has served in a variety of assignments as a judge advocate, to include serving six assignments as a staff judge advocate at the unified command, major command, numbered air force and wing levels. Prior to assuming his current position, he served as the Commander, Air Force Legal Operations Agency, Bolling Air Force Base, D.C.
General Harding is a 1979 graduate of the School of Law and earned his Bachelor of Science degree from the University of Arkansas in 1975. His great uncle, Arthur M. Harding, was the first Arkansas-born president of the University of Arkansas.
The School of Law Commencement will begin at 2 p.m. It will be live streamed at http://new.livestream.com/uark/events/2102889 .