Food Recovery Project to Help Reduce Waste, Feed Hungry
Posted on August 1, 2013
The United States is plagued by two food-related problems – high rates of hunger in its citizens and vast amounts of food waste. The Food Recovery Project, an initiative of the University of Arkansas School of Law graduate program in agricultural and food law, seeks to help reduce hunger by recovering food that would otherwise be thrown away.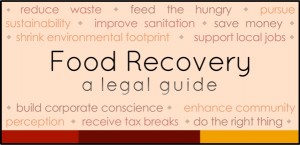 "Food recovery is an ideal strategy for simultaneously reducing waste and feeding the hungry," said Nicole Civita, director of the program and visiting assistant professor of law. "Our program supports businesses who seek to enhance their sustainability and community outreach in a cost effective manner."
The Food Recovery Project provides resources and legal information that encourage and support businesses in developing and implementing food recovery programs. Started in 2012, the program is funded by a grant from the Women's Giving Circle.
"The Food Recovery Project will positively impact both the citizens and businesses of Arkansas and the surrounding region," said Stacy Leeds, dean of the School of Law. "The project is another example of the leadership role our LL.M. program takes in agricultural and food law, and of the visionary philanthropy of the Women's Giving Circle."
For more information on the project, including its guide to food recovery, please visit the Food Recovery Project website.