School of Law alumnus contributes to Arkansas history book
Posted on August 29, 2013
School of Law alumnus and current 8th U.S. Circuit Court of Appeals Justice Morris S. Arnold has contributed to the latest edition of Arkansas: A Narrative History. Two of the book's other authors — George Sabo, University of Arkansas professor and director of the Arkansas Archaeological Survey, and U of A history professor Jeannie Whayne — recently presented a copy of the latest edition of the textbook Arkansas: A Narrative History to Chancellor G. David Gearhart and will be signing copies in Little Rock near the end of September.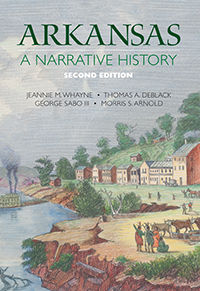 The book is a comprehensive state history that has been invaluable to students and the general public since its original publication over 10 years ago. The original edition won the Arkansiana Award when it was published in 2002, and the book is widely used in colleges throughout the state.
The new edition has been updated and expanded with three additional chapters, including a new chapter on Arkansas geography. It also covers fresh material on the civil rights movement in the state and the struggle over integration, a new analysis of Arkansas' school-funding issues and an examination of the Natural State's transition from colonialism to its entry into the global political economy. Maps are also dramatically enhanced.
Sabo is a professor of anthropology and environmental dynamics. Whayne is a professor in the history department. The two other authors of the book also have University of Arkansas connections: Thomas A. DeBlack received his doctoral degree in 1995 under the direction of the late Willard B. Gatewood, distinguished professor of history. Morris S. Arnold received his bachelor's degree in electrical engineering (1965) and his bachelor of laws degree (1968) from the U of A.
Retained from the original edition are Sabo's exploration of Native American prehistory and the cataclysmic shocks of climate change and European arrival. He discusses how surviving native groups maintained traditional economic and social institutions, which in turn proved crucial to early colonists.
Arnold details how colonists and Indians withstood international conflict through intermarriage, diplomacy, political alliances and trade. Whayne demonstrates that these multicultural relationships also characterized early American settlement but that the balance of power shifted dramatically when white settlers brought in plantation agriculture and slavery.
Arnold also wrote wrote Rumble of a Distant Drum: The Quapaws and the Old World Newcomers, 1673–1804, winner of the John G. Ragsdale Award and the Booker Worthen Literary Prize.
The University of Arkansas Press published both editions of the award-winning textbook.