Expert on Law and Civil Liberties to Lecture on Terrorism, Torture and US Law
Posted on September 16, 2013
The King Fahd Center for Middle East Studies and the International Law Society present "Classified Memories: Trying to Try Terror Suspects who were Tortured by the CIA," a lecture by Lisa Hajjar, professor of sociology at the University of California-Santa Barbara. The lecture will be at 4 p.m. Tuesday, Sept. 17, in Room 324 in the Leflar Law Center. This lecture is free and open to the public.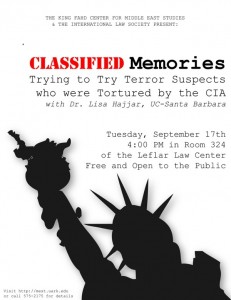 Hajjar's research and writing focus on law and legality, war and conflict, human rights, and torture. She is the author of Courting Conflict: The Israeli Military Court System in the West Bank and Gaza (University of California Press, 2005) and Torture: A Sociology of Violence and Human Rights (Routledge, 2012). In addition to being a co-editor at Jadaliyya, she serves on the editorial committees of Middle East Report and Journal of Palestine Studies. She is currently working on a book about anti-torture lawyering in the United States.
Hajjar's presentation focuses on two high-profile cases being prosecuted by the military at Guantanamo relating to accused perpetrators of the September 2011 terrorist attacks and the bombing of the U.S.S. Cole off the coast of Yemen in 2000. One of the most controversial legal questions is whether the defense can raise the issue of the defendants' treatment while held in CIA black sites or whether the U.S. government can 'classify' these experiences. The issue cuts to the heart of the relationship between torture, secrecy and government accountability and questions of 'justice' under such circumstances.
This program is sponsored by the King Fahd Center for Middle East Studies and the International Law Society.