Phillips and Montgomery Win Union Trial Competition
Posted on October 14, 2013
Second-year law students J.P. Phillips and Blake Montgomery were the winners of the 2013 William H. Sutton Barristers' Union Trial Competition. The runner-up team in the final round was the team of third-year student Ariel Flood and second-year student Rasohn Perry. Flood was named outstanding individual advocate.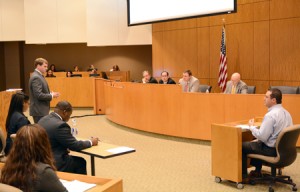 The round was judged by presiding judge Sach Oliver of Bailey & Oliver Law Firm in Rogers, Tim Hutchinson of Reece Moore Pendergraft LLP of Fayetteville, Stevan Vowell of Taylor Law Partners in Fayetteville, and John Sjovall, associate general counsel at Wal-Mart Stores Inc.
Held in the E.J. Ball Courtroom at the University of Arkansas School of Law, the championship round capped off two weeks of competition that started three weeks into the fall semester. The competition featured 75 practicing attorneys who served as judges in the 38 rounds of competition that included 48 competitors and witness volunteers.
Third-year student Elise Dudley chaired the competition. Several attorneys traveled from as far away as Little Rock, Fort Smith, Mount Ida, and Tulsa, Okla., to judge the evening rounds. Also participating in the competition were paralegal students from Sjovall's class at NorthWest Arkansas Community College and a group of students from Har-Ber High School in Springdale who attended one of the quarterfinal rounds.
Oliver, the presiding judge in the final round kicked off the competition with his presentation, "How to Win the Trial Competition." At the close of the competition Bailey & Oliver also sponsored a closing argument contest comprised of students who emerged from preliminary competition into the Round of 16. The winner of that contest was Blake Montgomery. Second place went to Steven Hall, and third place to Alice Havner.