Gideon Panel Marks 50th Anniversary, Free CLE
Posted on November 5, 2013
Experts will discuss the U.S. Supreme Court's landmark decision in Gideon v. Wainwright to commemorate its 50th anniversary at 4:00 p.m. on Friday, Nov. 8, in the E.J. Ball Courtroom at the University of Arkansas School of Law. The event is free and open to the public and qualifies for 1.5 hours of continuing legal education for practitioners. Please RSVP by emailing CrimLawSociety.Arkansas@gmail.com.
The panel will gather an impressive array of legal practitioners and scholars in order to discuss the legacy of Gideon v. Wainwright, 372, U.S. 335 (1963).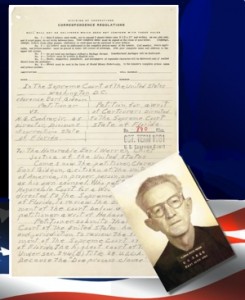 The panel will include Annabelle Imber Tuck, former Arkansas Supreme Court Justice and current Commissioner of Arkansas Access to Justice; Gregg Parrish, Director of the Arkansas Public Defender Commission; Professor Doug Colbert, Professor of Law at the University of Maryland School of Law; and Tony Pirani, Deputy Public Defender for the Washington County Public Defender. School of Law Professor Laurent Sacharoff will moderate.
The Gideon court was the starting point for providing indigent criminal defendants with counsel under the Sixth Amendment. The panel discussion will focus on whether indigent defendants have the right to the assistance of counsel during their initial appearance before a judge.
Arkansas Rules of Criminal Procedure Rule 8 governs initial appearances. Under this rule the matter of whether the State should provide an attorney at this pivotal stage is unsettled. The panelists will consider whether the accused's right to counsel extends to initial appearances since it is at these proceedings where bail is initially set.
There will be a reception immediately following the discussion. The event is sponsored by the University of Arkansas Criminal Law Society and Phi Alpha Delta.
The Criminal Law Society is a student-run organization whose mission is to provide the University of Arkansas and local legal community with opportunities to learn more about the practice of criminal law. This organization also seeks to bring students, academics, legal practitioners, and citizens together by providing informative lectures, debates and discussions concerning pressing issues in criminal law.
Phi Alpha Delta is a legal fraternity seeking to advance legal integrity, compassion, and courage through service to law students, law schools, the legal profession, and the legal community at large. Phi Alpha Delta works to promote its core values of integrity, compassion, courage, professionalism, service, diversity and innovation.