Agricultural and Food Law Program Launches Distance Education Option
Posted on March 12, 2014
The University of Arkansas School of Law's master of laws program in agricultural and food law, the only such program in the United States, is adding an innovative distance option beginning fall 2014.
The program offers a full range of distance components to combine the educational benefits of classroom interaction with the efficiencies and economies of remote participation. Distance students participate in on-campus classes live through synchronous videoconferencing. Classroom capture and online exercises allow distance students to keep up when their schedules do not permit live participation. In addition, the program offers innovative hybrid courses and self-paced, guided online study.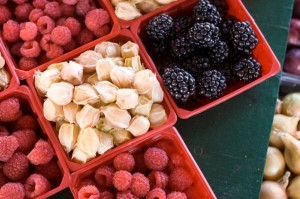 "Typical distance programs use technology to present course material and to interact through online postings and email," said School of Law Associate Dean Don Judges. "We use technology to also bring the classroom experience directly to distance students and to bring distance students directly into the classroom."
The program's distance components are designed and presented with support from the experienced distance learning instructional designers at the University of Arkansas Global Campus.
"This program is an exciting opportunity for people who want to study agricultural and food law but cannot come to the Fayetteville campus to study," said Javier Reyes, vice provost for distance learning. "The launch of the LL.M. program is the latest example of the university's commitment to expanding educational opportunities and employing innovative teaching methods that combine Fayetteville's academic quality and distance education's flexibility. By providing more online programs, the university is responding to market demands and student needs."
The distance option is seamless: All students may take courses on campus or by distance. For example, distance students are encouraged to visit Fayetteville to attend the program's distinctive two- to five-day condensed courses taught by visiting experts, or to "conference in" live through synchronous connection.
The program has also expanded its curriculum of specialized agricultural and food law courses. Full integration of the on-campus and distance components allows students to enroll in any of them. Enrollment is limited to preserve the benefits of smaller classes.
On-campus students can participate in the experiential opportunities available in Northwest Arkansas, such as the Indigenous Food and Agriculture Initiative, the Food Recovery Project and food- and agriculture-related externships. Graduate assistantships are limited to students on campus.
For distance students, the LL.M. classroom will be wherever they are, allowing them to maintain their job and residence elsewhere.
"For some time, the LL.M. program has received inquiries from practicing attorneys who wanted to attend, but could not relocate to Fayetteville," said Susan Schneider, director of the program and professor of law. "We're excited to be able to provide a distance option that will fit their needs, while also enhancing the overall program."
The program allows students to enroll full time, completing the degree in just two semesters, or part-time, with up to four years to finish. The part-time option is designed for attorneys who seek to develop specialized skills while also maintaining a busy practice.
"We are pleased to add a distance component so that lawyers throughout the global agriculture and food sectors can benefit from our unique curriculum and outstanding faculty," said Stacy Leeds, dean of the School of Law.
For more information and to apply to the program, please visit the LL.M. program's website.