School of Law Continues Climb up U.S. News Rankings
Posted on March 11, 2014
The University of Arkansas School of Law moved up the rankings in U.S. News and World Report's 2015 edition of Best Graduate Schools. The law school's ranking improved by seven spots since last year and has climbed 47 spots since the 2008 rankings.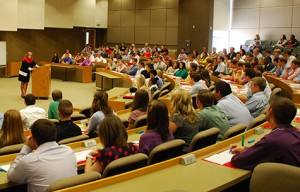 The School of Law is ranked in the top tier of law schools for the sixth consecutive year. It is now tied for 61st place overall and 33rd among public law schools. In addition to its climb up the overall rankings, the School of Law has moved up 12 places in the public ranking since 2011.
"Our outstanding career placement and bar passage rates speak to the quality education our students receive," said Stacy Leeds, dean of the School of Law. "Our national standing and low tuition reinforce our reputation as one of the best values in legal education."
The U.S. News ranking methodology includes a peer assessment score, an assessment by lawyers and judges, student/faculty ratio, bar exam passage rates, post-graduation employment rates, and other measures.