School of Law LL.M. Candidate Named 'Champion of Change'
Posted on July 31, 2014
University of Arkansas School of Law student Vena A-dae Romero was honored as a "Champion of Change" on Tuesday, July 29, by the White House and U.S. Department of Agriculture (USDA).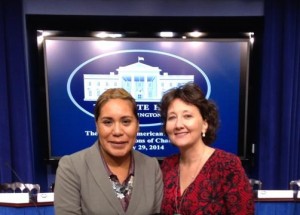 The "Champions of Change" are 15 leaders from across the country who are doing extraordinary things to build the bench for the next generation of farming and ranching. Romero, who will graduate in August with a Master of Laws degree, is Cochiti Puebloan and Kiowa Indian. She was born in Cochiti Pueblo, New Mexico, as a granddaughter of a Pueblo farmer.
As a student in the School of Law's graduate program in agricultural and food law, she worked with the Indigenous Food and Agricultural Initiative. She now consults for First Nations Development Institute, a leading Native American nonprofit whose mission is to strengthen American Indian economies.
Romero also was awarded a J. William Fulbright Scholarship this year to complete a research study on indigenous food sovereignty in New Zealand. Her study will compare similar colonial experiences between the Maori people of New Zealand and the American Indians in the United States and explore the influence of traditional food systems.
The Champions of Change program featured USDA Deputy Secretary Krysta Harden, who discussed efforts to ensure that beginning farmers and the growing ranks of agriculture — women, young people, immigrants, socially disadvantaged producers, returning veterans and retirees — have access to the programs and support they need. The event included a discussion about how to continue growing and supporting the next generation of America's farmers and ranchers.
The Champions of Change program was created as an opportunity for the White House to feature individuals, businesses, and organizations doing extraordinary things to empower and inspire members of their communities. To learn more about Champions of Change and nominate someone for the program, visit the Champions of Change website.