School of Law Brings Diverse Undergraduate Class to Prelaw Program
Posted on July 2, 2014
Nineteen rising sophomore and junior undergraduates from throughout the United States are attending the University of Arkansas LSAC DiscoverLaw.org Prelaw Undergraduate Scholars Program. Known by its acronym, PLUS, this immersive four-week summer academic program includes legal writing and oral advocacy, as well as professional development that includes mentoring by members of the Arkansas Bar and judiciary. The program, in its third year at the School of Law, is supported by a $300,000 grant from the Law School Admission Council.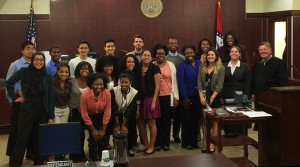 The program brings in students from colleges with historical or significant populations of African American, Asian American, Latino and Native American students; first-generation college students; those with financial challenges; and historically underrepresented student populations. The grant covers the cost of instruction, room and board, and stipends for enrolled students.
"The University of Arkansas School of Law honors and builds on its tradition of diversity and inclusiveness with the PLUS program," said Stacy L. Leeds, dean of the School of Law. "We provide outstanding instruction and mentoring to these students to prepare them for success in law school and their careers."
The PLUS class is composed of 13 women and 6 men. The students hail from every corner of the nation, including Washington, Massachusetts, Arizona, New York and Arkansas. The students are active in student government, honors societies, sports and volunteer programs in their schools, and, among them, speak nine different languages.
Three courses are taught each weekday morning by professors Victoria Duke, Crisarla Houston and SpearIt. Their combined teaching experience includes instruction at the University of the District of Columbia David A. Clarke School of Law, Florida A&M University College of Law, Indiana Tech School of Law, Texas Southern University's Thurgood Marshall School of Law, St. Louis University School of Law, the University of California, Santa Barbara, and the University of California, Berkeley.
"We designed the curriculum to give the students a good sense of what to expect in law school," said Lisa Avalos, assistant professor of law and academic coordinator of the University of Arkansas PLUS Program. "By bringing in law faculty from throughout the nation, we enhanced the academic rigor of the program and provided our students invaluable training."