Why Arkansas Law?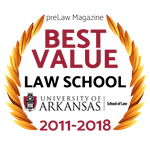 The University of Arkansas School of Law has been named among the "Best Values in Legal Education" by National Jurist magazine since 2011 and is among the top 48 public law schools, according to U.S. News and World Report. Students get to live in one of the nation's "Best College Towns" before joining an international alumni network. A challenging curriculum taught by nationally recognized faculty and guest scholars, a close-knit community with unique service opportunities and an academic institution that puts students first to prepare graduates for bar passage and legal practice. In this section, future students will find information on degree programs, how to apply, funding your education, contacts for offices and faculty, living in Northwest Arkansas and other resources to make the best decision for their law school career.
The National Jurist and preLaw magazines ranked the University of Arkansas School of Law seventh "Best Value" in the nation. This marks the fifth consecutive year the school has been ranked among the "Top 20 Best Value Law Schools" and the third consecutive year it has been in the top 10.
The magazines conduct the yearly study and ranks schools based on percentage of graduates who pass the bar exam (15 percent); employment rate (35 percent); tuition (25 percent); cost of living (10 percent); and average indebtedness upon graduation (15 percent).
The National Jurist
Named among the National Jurist magazine's Top 20 Best Value Law Schools in the nation
2014 peak ranking: #1 Best Value Law School
2015 ranking: #7 Best Value Law School
U.S. News and World Report
Rising ranking in U.S. News and World Report
Climbed 47 spots in the ranking from 2007 to 2014
2014 peak rankings: #33 best public law school, #61 overall
2015 rankings: #41 best public law school, #75 overall
Consistently ranked among lowest average debt load national for students graduating from law school
2015 – 5th lowest
2014 – 4th lowest
23% of Class of 2014 incurred no student law school debt
High Employment & Bar Passage
Employment Rate
92% of graduates employed or seeking higher education (9 mos. after graduation) 2010-2014
Class of 2014 – 92.9% of its students employed or pursuing degree
Status Known: 126 of 129
Employed – Bar Passage required: 73 (57.9%)
Employed – JD Advantage: 34 (27%)
Employed – other professional position: 5 (4%)
Pursuing a degree: 6 (4%)
Bar Passage
July 2015 Arkansas Bar Exam - students scored higher than the state average
First-Time Takers: 78.8%
Overall pass rate: 71.6%
Fayetteville & Northwest Arkansas
The University of Arkansas is located in Fayetteville in the foothills of the Ozark Mountains. Fayetteville and the Northwest Arkansas region are often recognized for the visual and performing arts and entertainment scene, local food movement, outdoor recreation activities, innovative business climate and natural beauty.
Fayetteville has been rated among the Top 5 Best Places to Live by U.S. News & World Report and among the top 10 best college towns and top 100 places to live by Livability.com and among the "Best Places for Business and Careers" by Forbes.
Twenty-eight active student organizations provide an added sense of community and opportunities for community service. A robust advocacy program engages many students and more than 40 percent participate in mock trials, moot court and client advocacy competitions. Various events encourage networking with faculty and the local legal community.
Students are encouraged to participate in any of the school's three journals, and summer curriculum and study abroad programs are available in Russia and England.
Student groups organize symposia, continuing education courses, academic and skills competitions, fundraisers and clothing and food drives.
A full list of organizations may be found here.
Our alumni are located in all 50 states, the District of Columbia, two territories and 20 countries.
A few notable alumni include:
Mark Pryor, '88, U.S. Sen. (2003-15)
Rodney Slater, '80, U.S. Secretary of Transportation (1997-2001)
Mike Beebe, '72, Arkansas Gov. (2007-15)
David Pryor, '64, LL.D., '97, Arkansas Gov. (1975-79), U.S. Sen. (1979-97)
Philip Anderson, '59, American Bar Association President (1998-99)
George Haley (deceased), '52, U.S. Ambassador to Gambia (1998-2001)
Our curriculum incudes a J.D. Program, Accelerated J.D. Program for Foreign-Trained Lawyers, LL.M. Program in Agriculture and Food Law, certificate programs in criminal law and business law, seven clinical programs, nine externship programs, three law journals, skills classes and study abroad courses.
Nationally Recognized Faculty
Faculty members specialize in many areas of legal study and have served as practitioners, public servants and judges as well as academic scholars. They are renown with colleagues nationally and internationally for their research and intellect. They are requested as guest lecturers and experts by colleges and universities, businesses and courts.
A few notable faculty members include:
Howard W. Brill, Arkansas Supreme Court Chief Justice (on leave until 2016)
Bill Clinton, Arkansas Gov. (1979-81, 1983-92), U.S. President (1993-2001)
Hillary Rodham Clinton, U.S. Sen. (2001-09), U.S. Sec. of State (2009-13)
J. William Fulbright (deceased), U of A Pres. (1939-41), U.S. Sen. (1945-74)
Claude Pepper (deceased), U.S. Sen. (1936-51)
Distinguished Visiting Scholars
We often host visiting scholars and distinguished lecturers. Students are introduced to individuals from varied backgrounds and experiences to discuss new points of view and provide insight into historic or current events.
A few notable visiting scholars include:
Paulette Brown, President, American Bar Association
Morris Dees, Southern Poverty Law Center
Ruth Bader Ginsburg, U.S. Supreme Court Justice
Sandra Day O'Connor, U.S. Supreme Court Justice (1981-2006)
Wesley Clark, Gen. and former Supreme Commander Europe of NATO (1997-2001)
---
For further information, see our ABA Standard 509 Information Report for University of Arkansas School of Law .