Research Tools
Student Services and Policies
Reference
Reference Librarians are available to assist the faculty, students, attorneys, and members of the public with many services. Our Librarians can assist faculty and students with short research assignments, run quick electronic searches, create bibliographies or guides, and offer research instruction to students.
Interlibrary Loan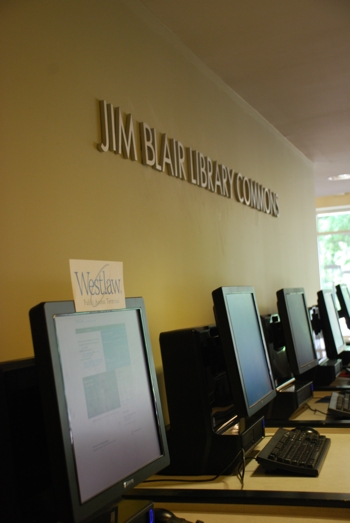 The Young Law Library handles interlibrary loan requests. This service is provided free to all students, staff, and faculty. If you would like for the Law Library to help find resources for you, please speak with Cathy Chick (575-5835) and she will be able to help you find and request titles.
You can request a Book or Article online →
Photocopy Services
The library has two photocopiers located opposite the Reference Desk and one copier in the stacks near the Circulation Desk. Two copiers accept IDs with Razorbuck$ or Razorbuck$ cards and one accepts bills and coins only. The copiers produce copies for paper sizes of 8.5 x 11 and 8.5 x 14. The cost per page copied is 15 cents for coin-operated copiers and 12 cents for card-operated copiers. To purchase a visitor's Razorbuck$ card, or add value to your current card, you must use the vending machine across from the Reference Desk or visit the Service center in the Union.
Circulation
The Circulation Desk is located next to the Beasley Hall Entrance of the Law Library on the 2nd floor. Because this is a research library, some titles may not circulate. Those titles that do circulate may be checked out for twenty-eight days. Reserve items check out and renew for two hours at a time, and you may renew items in person or by using InfoLinks' "My Library Account." Any Law Library user may request that an item be recalled or held for that user upon its return to the Law Library. Reserve books may no be recalled or held. You must have a valid University ID to check out items.
Computer Lab
The Computer Lab is located in Room 236 on the 2nd floor. The lab's networked computers may be used by law students for word processing, online research, and e-mail. Lexis and Westlaw printers will be available to students after they have received instruction, and they may retrieve those print jobs from Room 235B. All other print jobs from the Computer Lab are sorted by Circulation and can also be retrieved from Room 235B.
Policies
Food: Snack foods and drinks in spill-proof containers are allowed in the Law Library. Please refrain from bringing in meals.
Phones: Cell phones and other electronic devices must be turned off or muted while in the Law Library. All calls should be taken outside the library.
Quiet Study Areas: Patrons should keep conversations quiet out of respect for those patrons studying around them. The 1st floor area of the Law Library is designated as a quiet study area; group study should be conducted in other areas of the library, such as the mezzanine or conference rooms.
Conference Rooms: Three conference rooms on the 2nd floor are available for the use of law students only and may be reserved in two-hour increments per day by signing up on a sheet posted on each of the conference room doors.
Lost items: Lost and found items are held at the Circulation Desk.