Summer Leadership Summit: Native Youth in Agriculture
Summer Leadership Summit: Native Youth in Agriculture
We are excited to announce the 5th annual Native Youth in Food and Agriculture Leadership Summit at the University of Arkansas School of Law!
The 2018 Summit is open to American Indian, Alaska Native, and Native Hawaiian youth, ages 15-18 (including recently graduated high school seniors).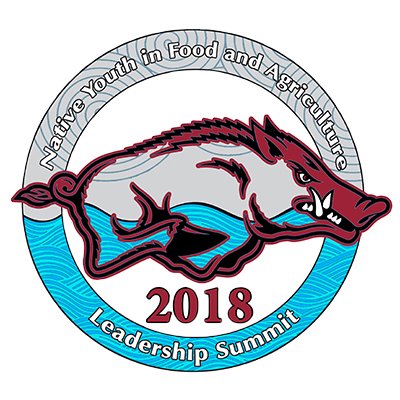 Interested participants should apply now to attend the 2018 Native Youth in Food and Agriculture Leadership Summit, which will be held June 7th-14th in Fayetteville, Arkansas, at the University of Arkansas School of Law, home of the Indigenous Food and Agriculture Initiative. Some travel assistance may become available; participants will receive information about this after they are accepted into the program.
This year's Summit will build on previous Summits, but will be more intensive. The 2018 Summit will be a skills-development focused event that will give attendees an opportunity to do a deep dive in a particular area of food and agricultural production or policy. These four subject matter areas are:
Agricultural Business and Finance;
Conservation Practices and Planning for Agricultural Production;
Agricultural & Food Law and Policy; and
Nutrition and Health.
While at the Summit, participants will be led by experts in these areas and will spend their time at the event learning and working on these topics with a small group of their peers. In addition to learning the critical skills they need to be the next generation of Indian Country food and ag leaders in each of these topic areas, all students attending will also receive a full Food Safety Modernization Act training on the Produce Safety Rule during their time at the Summit.
The priority deadline for applying to the 2018 Summit is March 1, 2018. Priority students will be allocated additional points in the selection process.
The final deadline for applying to the 2018 Summit is March 15, 2018.
Click the links above to fill out the application online. Questions about the Summit? Contact Erin Shirl on the IFAI staff at eshirl@uark.edu, or call her at 479.575.6572 or 479.575.5128.
The Summit 2018 staff can't wait to read your applications!
We encourage you to apply if you:
are American Indian, Alaska Native, or Native Hawaiian;
are between the ages of 15 and 18;
are passionate about food and agricultural production, and
have the courage to lead their Tribes and communities into the future,
then we want to see you at the 2018 Summit!
Spaces are limited, so PLEASE APPLY AS SOON AS POSSIBLE.
Dates
June 7-14, 2018 (this includes travel dates)
Cost to Attend
All food, lodging, instructional materials and field trip costs will be provided. Depending on the number of students, some travel scholarships will also be provided. However, we need applications as soon as possible to plan for travel needs.
Supporters
Beginning Farmer and Rancher Development Program, National Institute of Food and Agriculture, United States Department of Agriculture, Farm Credit, Natural Resources Conservation Service, USDA, Southern Region Extension Risk Management Education Program About the Indigenous Food and Agriculture Initiative: The initiative enhances health and wellness in tribal communities by advancing healthy food systems, diversified economic development and cultural food traditions in Indian Country. The initiative empowers tribal governments, farmers, ranchers and food businesses by providing strategic planning and technical assistance; by creating new academic and professional education programs in food systems and agriculture; and by increasing student enrollment in land grant universities in food and agricultural related disciplines. For more information, visit www.indigenousfoodandag.com.
CONTACT
Erin Shirl
eshirl@uark.edu or (479) 575-6572