Summer Leadership Summit: Native Youth in Agriculture
Summer Leadership Summit: Native Youth in Agriculture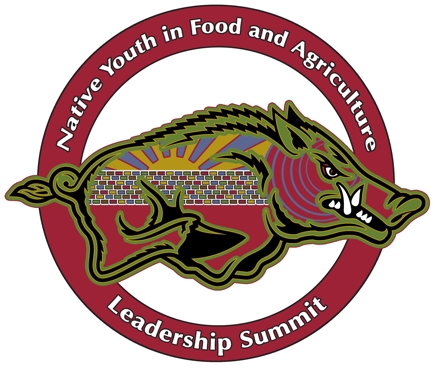 We are excited to announce our 4th annual Leadership Summit for Native Youth in Food and Agriculture at the University of Arkansas School of Law. The Summit will be held July 16 - 25, and application deadlines are listed below.
Download applications for the 2017 summit:
Click the links above for .pdf copies of the applications. Need an email or print copy? No problem! Contact Emerald Hames on the IFAI staff at ehames@uark.edu, or call her at 479.575.5128 or 479.422.1446.
The Summit 2016 staff can't wait to read your applications!
We encourage you to apply if you:
are American Indian, Alaska Native, or Native Hawaiian;
are between the ages of 15 and 18;
are passionate about food and agricultural production, and
have the courage to lead their Tribes and communities into the future,
then we want to see you at the 2017 Summit!
Spaces are limited, so PLEASE APPLY AS SOON AS POSSIBLE.
To learn more and see pictures and video of our 2016 youth summit, click here.
Cost to Attend
All food, lodging, instructional materials and field trip costs will be provided. Depending on the number of students, some travel scholarships will also be provided. However, we need applications as soon as possible to plan for travel needs.
Dates
July 16-25, 2017 (this includes travel dates)
Location
University of Arkansas School of Law in Fayetteville, Arkansas
Hosts
Indigenous Food & Agriculture Initiative, University of Arkansas School of Law and the Intertribal Agriculture Council
Supporters
Beginning Farmer and Rancher Development Program, National Institute of Food and Agriculture, United States Department of Agriculture, Farm Credit, Natural Resources Conservation Service, USDA, Southern Region Extension Risk Management Education Program
Native students flourished at 2016 leadership summit
Nearly 100 Native American, Alaska native and Native Hawaiian students representing 51 tribes converged on the University of Arkansas School of Law for a unique 10-day leadership summit to learn how food and agriculture policy impacts their tribal communities. The summit, sponsored and organized by the Indigenous Food and Agriculture Initiative, is an annual event in its third year.
During the summit, students engaged with a wide variety of guest speakers who presented topics including the history of American Indian Agriculture, business planning, ethnobotany and seed preservation, legal issues in Indian Country, and the importance of traditional foods.
Speakers included IFAI Director Janie Simms Hipp (Chickasaw), Intertribal Agriculture Council Executive Director Ross Racine (Blackfeet), Dale Bumpers College of Agriculture Professor H.L. Goodwin, School of Law Dean Stacy Leeds (Cherokee), Crystal Echo Hawk (Pawnee) from EchoHawk Consulting, Justin Wilson (Choctaw) from the US Dept. of the Interior, Mark Tilsen (Lakota Sioux) from Native American Natural Foods, and Toni Stanger-McLaughlin (Colville) a consulting attorney with the IFAI.
The students were also treated to a presentation by Native American celebrity chef Sean Sherman (Lakota Sioux), also known as The Sioux Chef, who has become a leading advocate of preserving traditional foods and restoration of an indigenous diet. The final speaker of the summit was Arthur "Butch" Blazer (Mescalero Apache), former USDA Deputy Undersecretary for Natural Resources and Environment, who spoke about the importance of tribal leadership.
Students also left the classroom to visit several agriculture operations and food businesses including the Cattle Company and Downstream Casino greenhouses of the Quapaw Nation, a Walmart Distribution Center, the U of A animal and food science labs, and the Fayetteville Farmers Market. The summit field trips were capped with a full day excursion to Daggs Farm in Stratford, Okla., where students helped install irrigation systems and learned about small small-scale chicken operations, cultivating ancestral plants, and the importance of good nutrition and healthy lifestyles.