Patent Bootcamp for Women and Minorities in STEM
featured speaker
Shontavia Jackson Johnson
On Friday, September 13, 2019, Shontavia Jackson Johnson will deliver a keynote address at the University of Arkansas School of Law. Her keynote address, "Diversifying Innovation: From A Seat at the Table to Inventing a New Table," will explore the racial and gender gaps in the American patent system and ways to close those gaps. The address will be at 4:15 pm in the E.J. Ball Courtroom and is open to the public. Shontavia's remarks are part of the University's first annual Patent Bootcamp for Women and Minorities in STEM.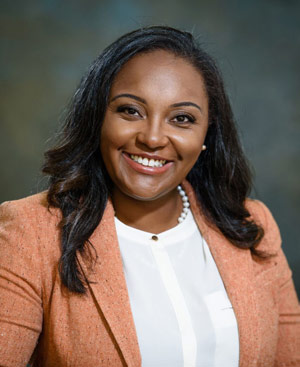 Shontavia currently serves as the Associate Vice President for Academic Partnerships and Innovation at Clemson University in Clemson, South Carolina, where she holds a tenured appointment in the Department of Sociology, Anthropology and Criminal Justice. She has also founded LVRG LLC, a company helping women build dynamic personal brands and successful companies. Shontavia co-hosts the bi-weekly LIT Podcast, where she and her co-host have culturally competent conversations about law, innovation, and technology.
Prior to her current role, Shontavia served as the Kern Family Chair in Intellectual Property Law and Director of the Intellectual Property Law Center at Drake University Law School.
Shontavia is a sought after speaker who has spoken on stages around the world. She has given the closing talk at TEDxAtlanta, presented at SXSW multiple times, and is regularly tapped by bar associations to speak on intellectual property law topics.
Shontavia's work has been widely recognized. She was named one of the best Young Lawyers in America by the American Bar Association and is currently on the prestigious Fulbright Specialist Roster. In 2018, she was named one of 200 Black Women in Tech to Follow on Twitter.
Shontavia has been extensively featured in the media, including in Fortune, CNN, TIME, and the Washington Post. Her article on America's black inventors was recently re-printed and archived in audio form by the Smithsonian Magazine. In 2014, Shontavia's academic article on trademarks and the internet was awarded the Ladas Memorial Award, a competition that identifies the best article in the world on a trademark law topic.
"Shontavia is the perfect person to give the keynote remarks for this event," said Professor Uche Ewelukwa Ofodile, E.J. Ball Professor of Law at Clemson University. "She is not only a dynamic attorney and speaker, she is an important national voice on intellectual property law. Her commitment to innovation and inclusion has, and will continue to, positively impact the lives of inventors, especially those who are women and people of color."
Shontavia received her B.S. in Biosystems Engineering from Clemson University and her J.D. from the University of Arkansas School of Law. She also studied law at the University of the Western Cape in Cape Town, South Africa. She is a proud member of Delta Sigma Theta Sorority, Incorporated.