The Registrar's Office oversees records (including transcripts and bar exam certifications), registration, policies, exams, and course schedules for faculty, staff, students, and external stakeholders. Our office heavily assists in academic advising and exam administration. We play an active role in the acquisition of textbook information for each course. The objective of the Registrar's office is to provide accurate information, efficient processes, and clear policies necessary for helping students succeed.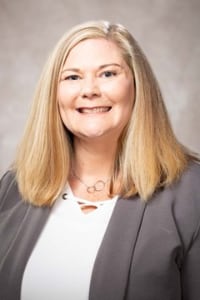 Brooke Holt
Registrar
479-575-7207
bholt@uark.edu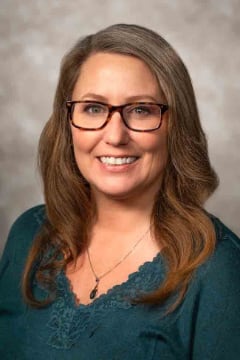 Jamie Boyd
Associate Registrar
479-575-7360
jb185@uark.edu
Frequently Asked Questions
1. How do I request a transcript?
Request a transcript from the University here.
2. How do I request a Certification?
Certifications for graduating 3Ls will be automatically completed within two weeks of final grades being posted for Arkansas Bar Takers.
If you are not graduating or will be taking the Bar in another state, please complete the Certification Request form found here:
Current Student or Active UARK Emails
Former Student
3rd Party Background Check
3. Where do I find the class schedule?
Class schedules will be emailed out to all students before the advising period. You can also find the class schedule with capacities and enrollment at: https://registrar.uark.edu/registration/schedule-of-classes.php
4. How do I register for classes?
First-year students will be administratively registered for the first two semesters. Second and third-year students will need to register themselves through UA Connect. You can access registration instructions here: https://registrar.uark.edu/registration/registration-instructions.php
5. How do I request testing accommodations?
Students requiring accommodations must register with the Center for Educational Access (CEA) prior to receiving accommodations. A link to the CEA website and application process can be found here:
https://cea.uark.edu/getstarted.php
6. I would like to take a course outside of the Law School.
Students wishing to take an out-of-career course must receive prior approval. To request an out-of-career form, email us at lawregr@uark.edu to begin the process.
7. How do I drop classes?
Students may drop classes in UA Connect as long as there are no holds on the student account and the class has no drop approval. Classes are dropped in the same way that students register for classes. Here is the link to registration information:
https://registrar.uark.edu/registration/registration-instructions.php
Here is more information regarding dropping classes:
https://catalog.uark.edu/undergraduatecatalog/orientationandregistration/addinganddropping_courses/
8. If I drop a class, will it be refunded?
Tuition refund amounts will vary based on when each class is dropped. Students will need to visit the Treasurer's Office for information on their specific account. You can visit their site here: https://treasurernet.uark.edu/tuition.aspx
Drop/Refund dates can be found on the Academic Calendar here:
https://registrar.uark.edu/academic-dates/academic-semester-calendar/
9. Am I in good academic standing?
To remain in good academic standing, all students must have at least a 2.0 at the end of each semester. More information regarding the Law School grading policy can be found here: https://law.uark.edu/academics/academic-policies.php
10. When will my rank be posted?
Class ranks will be emailed to students individually at the end of each semester within two weeks of final grades being posted.
11. How is my information protected?
All student records are protected under the Family Educational Rights and Privacy Act (FERPA). To view student rights under this act, please click here: https://registrar.uark.edu/student-records/ferpa/