2021 Alumni Reunion Weekend Speakers
Ms. Kendra Pruitt (J.D. '13)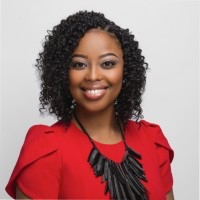 Kendra K. Pruitt is an attorney and Senior Advisor to Mayor Frank Scott, Jr. of Little Rock. In addition, during law school, Kendra founded a nonprofit, Club RESTORE, to give back to her hometown of Newport and other communities.
Kendra believes that our greatest calling is to make a positive impact in the lives of others. Accordingly, through her work and charity, Kendra works with people from all walks of life to seek solutions, overcome obstacles, and ultimately improve their quality of life.​
Kendra has received various awards, including "20 to Watch," "Finest Young Professional," and most recently being named "40 under 40" by Arkansas Business. This notoriety and her desire to make a difference keeps Kendra busy throughout her communities, as she is often called upon to speak or host various events, including her very own "Wakanda Forever" and "Girl Talk." In her spare time, Kendra enjoys taking vacations, eating great food, and spending time with loved ones.
Judge Earnest E. Brown, Jr. (J.D. '95)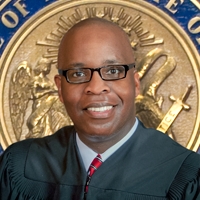 Judge Earnest E. Brown, Jr., presiding judge of the Circuit Court 6th Division, 11th Judicial District West of Arkansas was elected to office for a six year term May 20, 2008. He was sworn in to the office January 1, 2009.
Brown received a Bachelor of Science degree in Public Administration from the University of Arkansas at Fayetteville in 1991 and a Juris Doctorate from the University of Arkansas School of Law in 1994.
Upon graduation from law school, he initiated his public service career, serving as deputy prosecuting attorney in the Jefferson-Lincoln County prosecuting attorney's office.
Formerly, he served as state representative for legislative district 16 in Pine Bluff and was assistant speaker pro-tem for 4th District. He was also a member of Judiciary Committee, State Agencies and Governmental Affairs committee, co-chair of the Legislative Joint Auditing State Agencies sub-committee, alternate on the Joint Public Retirement and Social Security Programs committee, and Secretary for Arkansas Legislative Black Caucus.
Prior to taking office, he was managing partner with Brown & McKissic Law Firm. The firm practiced criminal defense, domestic relations, personal injury, wrongful death, probate and business and real estate law.
Judge Brown was an adjunct professor in the Criminal Justice Department at the University of Arkansas at Pine Bluff teaching in the courses of constitutional law, criminal law, criminal procedure, legal aspects of law enforcement, and legal aspects of corrections from spring 2000 until fall 2006.
Active in his church and recognized for his volunteer work in the community, as well as pro-bono professional services, Brown has received numerous awards and recognitions.
Judge Brown was a member of the 2000 class of Arkansas Business Top "40 under 40." He is a past member of the Leadership Pine Bluff of Directors (1998 – 2001) and the Pine Bluff Chamber of Commerce Board of Directors. He is a member of Alpha Phi Alpha fraternity. Judge Brown received the Arkansas State Court Appointed Advocates (CASA) Award for Juvenile Judge of the Year (2011).
Mr. Jade Laye (J.D. '04)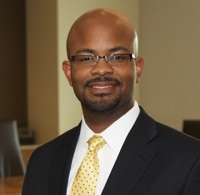 Jade Laye is a member of the Intellectual Property Practice Group in the Houston office of Haynes and Boone. A registered patent attorney, he focuses his practice on intellectual property law, with an emphasis on patent prosecution and counseling, as well as the acquisition, licensing and divestiture of patent rights. His litigation experience includes litigation support involving patent infringement and invalidity. He was honored in the Houston Business Journal, American City Business Journals, 2015 List of Top Patent Practitioners.
Jade has experience with a wide range of technologies, including electrical and mechanical oil field devices, optical computing devices, electromagnetic logging tools, software, semiconductors, fracturing methods, e-commerce, and telecommunications.
Jade is a former Patent Examiner with the United States Patent and Trademark Office in its telecommunications division. While at the USPTO, his technical focus was in the area of video and data distribution systems, networks, electronic programming guides, and related technology, such as video recording devices, modems and hand-held communications devices. In addition to his work as an attorney, his patent examination experience provides his clients with a significant advantage in both prosecution and litigation.
Jade is also involved in Haynes and Boone's Attorney Diversity and Inclusion efforts, where he focuses on advancing the hiring, retention and promotion of diverse lawyers within the firm. He also serves as a founding member of the Houston Minority IP Lawyers Association, and was admitted into the 2016 class of the Leadership Council on Legal Diversity (LCLD) Fellows Program. In addition, he serves on the Board of Directors for the Bridge Preparatory Academy in Sugar Land, Texas.
Dean Margaret Sova McCabe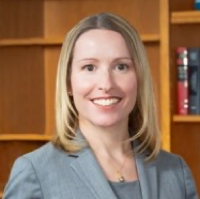 Margaret Sova McCabe was appointed in 2018 to serve as the law school's 13th dean; she is the third consecutive woman to serve in this role.
Prior to joining the University of Arkansas, Dean McCabe was a member of the University of New Hampshire (UNH) School of Law's faculty and served as its Associate Dean for Academic Affairs and prior to that its Associate Dean for Academic Administration. McCabe served in these roles during the integration of the Franklin Pierce Law Center, an independent law school, into the University of New Hampshire, the state's land grant and flagship institution.
While at UNH, Dean McCabe was also a faculty fellow in food systems at the UNH Sustainability Institute and an affiliate faculty member at the Carsey School of Public Policy. Her teaching portfolio includes Administrative Law & Process; Food Law & Policy; and in Arkansas she will be co-teaching an Honors College seminar entitled, Food Matters in 2021. Aligning her research with her teaching, McCabe's scholarship has focused on regulatory and legal issues in the food system including obesity, food marketing, scientific standards and food labeling, sustainable food system design, and government's development of dietary guidelines.
In her first two years at the University of Arkansas, Dean McCabe has launched a summer public service fellows program, which included the inaugural Arkansas Delta fellow in 2020; created an integrated approach to student success including integrating advising, career services and externships, and academic support; and has taken steps to advance the school's approach to diversity, equity, and inclusion.
Dean McCabe is a graduate of Bard College in Annandale-on-Hudson, New York where she was one of the first students to pursue an interdisciplinary sustainability program. She earned her law degree from the University of Maine where she served as an articles editor on Maine Law's Ocean & Coastal Law Journal. Before entering the legal academy, she served in the New Hampshire Department of Safety's Commissioner's Office, advising on a broad range of public safety and law enforcement issues, and practiced law in New Hampshire and Maine.
---