Graduation Information
Watch the 2018 Law School Graduation Ceremony →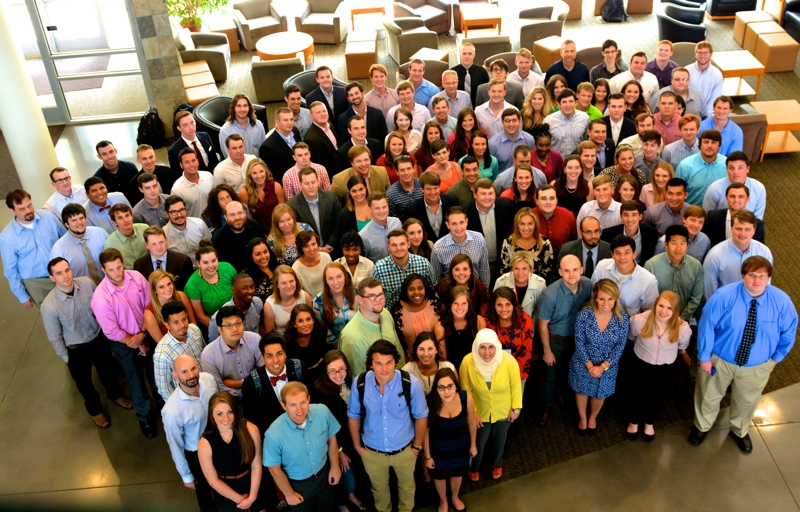 2018 School of Law Graduation Information & Commencement Instructions
Schedule
May 8-11

8am-6pm – Regalia pick-up – University of Arkansas Bookstore

May 12

7:30am-noon – Regalia pick-up – University of Arkansas Bookstore

May 18

4:15pm – Mandatory Graduation Meeting – E.J. Ball Courtroom
4:55pm – Class Photo – Norma Lea Beasley Entrance Hall
5:00pm – Awards Ceremony – E.J. Ball Courtroom
5:30pm – Graduate Family Reception – Richard B. Atkinson Memorial Courtyard

May 19

1:15pm – Commencement Arrival – Fayetteville Town Center
2:00pm – Commencement Ceremony – Fayetteville Town Center
Logistics and Details
Regalia: Graduates should pick up regalia in the University of Arkansas Bookstore May 8-12 (additional details will be available on the bookstore website http://uofastore.com/graduation/student.php#).
May 8: 8am-6pm
May 9: 8am-6pm
May 10: 8am-6pm
May 11: 8am-6pm
May 12: 7:30am-12pm
If you are unable to pick up your regalia, please ask a friend to pick it up. The bookstore dates for regalia pick are final, there will not be other available dates. This is your last chance to pick up your Regalia before graduation or make any last-minute exchanges for sizes. Contact the University Bookstore at 479-575-2155 for more information.
Candidates for degrees must wear robes appropriate to their degree without added adornment such as markings on mortar boards, beads or flowers. All graduates are expected to wear the approved, university issued regalia. Students must be in the appropriate attire to participate in the ceremony.
Friday, May 18, 2018
University of Arkansas School of Law — 1045 W. Maple Street
4:15pm – Mandatory Graduation Meeting – E.J. Ball Courtroom
There is a mandatory graduation meeting on Friday, May 18, at 4:15pm in the E.J. Ball Courtroom. We will discuss very important information about graduation logistics and you will complete the paperwork required before you can receive your degree. Please come dressed appropriately for all Friday events. You will not have time to change clothes between events.
4:55pm – Class Photo – Norma Lea Beasley Entrance Hall
During the first few days of orientation we took your class photo in the atrium, three years later we will recreate that moment and take your final class photo together. Students will gather in the atrium for their photo immediately following the Mandatory Graduation Meeting. To refresh your memory, the orientation photo is attached. The class photo will be posted to the law school's Facebook, Twitter and Instagram pages.
5:00pm – Awards Ceremony – E.J. Ball Courtroom
Awards and Honors will be presented on Friday, May 18, at 5pm in the E.J. Ball Courtroom. Family members and guests are encouraged to attend.
5:30pm – Graduate Family Reception – Richard B. Atkinson Memorial Courtyard
A Graduate Family Reception will be held on Friday, May 18, at 5:30pm in the Richard B. Atkinson Memorial Courtyard and the Norma Lea Beasley Entrance Hall (rain or shine). Again, family members and guests are encouraged to attend.
Saturday, May 19, 2018
Fayetteville Town Center — 15 W. Mountain Street
1:15pm – Commencement Arrival – (check in and line up in service hallway)
Graduates, please ARRIVE AT THE TOWN CENTER NO LATER THAN 1:15pm on Saturday, May 19, wearing your cap and gown. You will need to check in at the ticket window and then line up in the service hallway. For those who are graduating with honors, you will receive the sash that corresponds with your class rank when you check in.
All graduates are expected to wear the approved, university issued regalia. Students must be in the appropriate attire to participate in the ceremony. Headgear must be consistent among ALL graduates. This process will be covered in depth during the Mandatory Graduation Meeting on May 18.
Please make sure to arrive NO LATER THAN 1:15pm We will need the time to get everyone checked in and lined up to begin the ceremony at PROMPTLY at 2pm Other events are also happening on and near the Fayetteville Downtown Square on May 19, so please plan accordingly.
2:00pm – Commencement Ceremony
The School of Law commencement exercise will begin promptly at 2pm on Saturday, May 19.
Commencement Livestream: Commencement ceremonies will be live streamed via the University of Arkansas You Tube channel. The live streams of each ceremony will show on this page. We will also post all updated information here. Please feel free to share this link with family and friends who cannot attend.
Archived Video: https://www.youtube.com/user/UniversityArkansas
Official Photos: A professional photographer from Grad Images will be taking pictures during hooding and awarding of diplomas. In order to obtain the best photo, please face the audience as you are hooded. This will allow the photographer the best angle for a photo. Another photo will be taken when Dean Leeds hands you your diploma. A final posed photo with you holding your diploma will be taken once you exit the stage. Grad Images will contact you later to arrange for prints. We have placed cards in your box with instructions to pre-register for photos.
Family Photos: Family and friends are welcome to use cameras during the ceremony. We only ask that they stay out of the sight line of the official photographers.
Guests: There is no limit to the number of guests you bring with you. We encourage you to bring as many friends and family members as you wish to invite.
Parking: On commencement day there will be limited free parking below the Town Center in the parking garage and around the Fayetteville Square. The Farmers Market will be open at the beginning of the ceremony and will have an effect on available parking. It is advisable to carpool if possible.
Limited Disabled Seating: We recommend that guests with mobility impairment please contact Michele Payne at payne@uark.edu.
Reception Following Ceremony: Everyone is invited to a reception immediately following graduation on the terrace surrounding the Town Center.