Pro Bono Experiences
Students can gain experience while contributing to the community through a variety of pro bono activities. In the past, law students have assisted pro se litigants at a courtroom help desk, volunteered at an expungement clinic drafting documents to seal clients' criminal records, and drafted wills and other estate planning documents for Habitat for Humanity homeowners. If students have a particular interest not already included in our pro bono offerings, our Director of Pro Bono and Community Engagement can help them to identify and create new opportunities for service.
Comments from students who have participated in the program: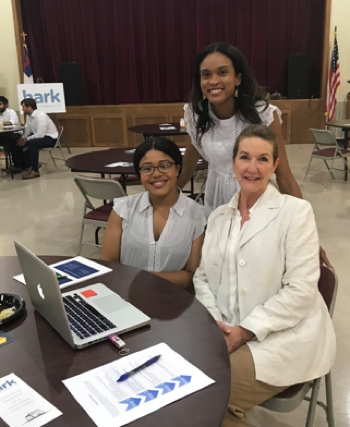 Katie Martin Rose
It is our duty to the community to do pro bono work. If we have the ability to help others, who need it most, we should.
I have been in a place where I needed help, and if I can be that person for others, I will do so if at all possible.
The pro bono work I have done has helped me to grow as a person, as well as being able to relate to the material I was learning in class.
The pro bono work I have done has given real-world application to the material learned in class.
Celina Walker
Pro bono work contributed to my legal education because it allowed me to engage not only in the homeless and low-income community of Northwest Arkansas, but also with the law school community. By hosting fundraisers and encouraging participation in the 7 Hills Legal Help Desk, I was able to interact with professors and fellow students who were also interested in pro bono work and volunteering.
While working at 7 Hills Legal Help Desk, a fellow student and I were able to assist a client in filing a wage claim with the Department of Labor, and he ended up receiving $120 in wrongfully deducted wages from his employer. He told me that even though it wasn't much money to most people, to him it made all the difference and that he appreciated what we were doing.
As law students, even though it seems like we are constantly busy and there is no possible way to fit anything more into our schedule, pro bono work is still possible. Even one to two hours per week could make a difference in someone's life. I began by volunteering at 7 Hills on Fridays for only two hours a week, which does not seem like much, but when organizations and individuals are relying on help from others it can really help. If every student takes the time to give one hour a week to pro bono work, then we would really start to effectuate change in our community.
Kelley Boyd
I participated in an expungement clinic that really opened my eyes. While I had previously advocated to restore voting rights to the formerly incarcerated and to prevent employers from asking about an applicant's criminal record prior to offering a person a job, it was a profound experience to learn that an hour or two of my time could help someone to seal their record and to make a significant difference in the employment prospects for them. . It was a privilege to do that work and I look forward to continuing to do it as a law student and eventually as a practicing lawyer.
Pro bono work is where I found the motivation to continue to go to law school because it reinforced the value and importance of the education I was receiving.