Academics
The University of Arkansas School of Law has been ranked among the "Best Values in Legal Education" by National Jurist magazine since 2011 and is among the top 48 public law schools, according to U.S. News and World Report. Students get to live in one of the nation's "Best College Towns" before joining an international alumni network. A challenging curriculum taught by nationally recognized faculty and guest scholars, a close-knit community with unique service opportunities and an academic institution that puts students first to prepare graduates for bar passage and legal practice. In this section, current students will find information on degree programs, experiential learning opportunities, career services, academic services and other resources to make the most of the law school experience.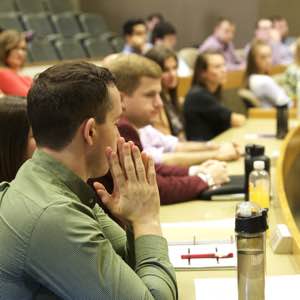 Established in 1924, the School of Law offers a full-time, three-year program leading to a Juris Doctor degree. The degree is conferred upon satisfactory completion of 90 semester hours, including 42 hours of required courses. Students are often referred to as 1Ls, 2Ls or 3Ls depending on the number of years they have been in the program. Two specialized certificate programs and four dual degree programs are also available to qualified students.
The first advanced law degree in agricultural and food law was founded here more than 30 years ago. The LL.M. program was also the first to offer a fully integrated opportunity for face-to-face and distance education options. With its support, the School of Law publishes the nation's first student-edited specialized journal devoted to food law and policy issues and sustains outreach efforts that connect academic scholarship with critical legal and policy issuess.

The School of Law business law certificate is designed for those students wishing to focus on business or transactional law and prepare themselves for a business law practice or to enhance their career prospects in the business field in general.

The Law School will offer a criminal law certificate to those students wishing to focus on criminal law during law school and prepare themselves for the practice of criminal law or policy.

J.D./M.A. Program
The School of Law and the department of political science provide a dual J.D. and M.A. in international law and politics. Students in this program must be admitted both to the School of Law and the Graduate School department of political science. See the Law School Catalog for more info →

J.D./M.B.A. Program
The School of Law and the Walton College of Business cooperate in offering an opportunity for students to pursue the J.D. and the Master of Business Administration degrees (M.B.A.) concurrently. See the Law School Catalog for more info →

J.D./M.P.A. Program
The University of Arkansas department of political science, the Graduate School, and the School of Law cooperate in offering a dual-degree program that allows students to pursue the Master of Public Administration (M.P.A.) and J.D. degrees concurrently. See the Law School Catalog for more info →

J.D./M.S.W. Program
The School of Law and the School of Social Work provide an opportunity for students to pursue the Juris Doctor (J.D.) and the Masters of Social Work (M.S.W.) degrees concurrently. See the Law School Catalog for more info →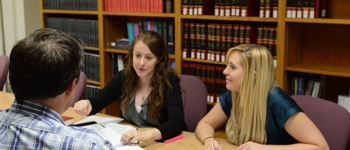 Our Legal Clinic was founded by then-professor Hillary Rodham Clinton in 1975 to give students hands-on skills training by representing real clients in real life situations and to provide legal services to the community. The program now includes seven clinics that handle more than 900 cases a year.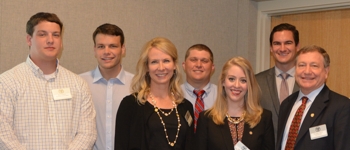 Externships allow students to actively participate in a legal field while earning academic credit. Students have the opportunities with seven clinics and nine externship programs, including with Fortune 100 companies and state and federal courts.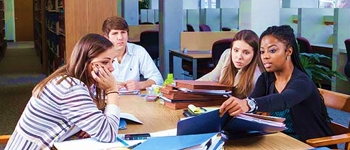 Our Pro Bono and Community Service Program matches law students with area legal services agencies, nonprofits and members of local bar associations to assist in the provision of free legal services. Ongoing opportunities include the Habitat for Humanity Wills Project and Pro Bono Week Celebration.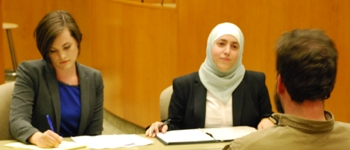 Students may choose from several simulation courses for skills credits and specialized courses for the two-credit upper-level writing requirement. Skills classes focus on particular areas of expertise needed for success in the legal profession.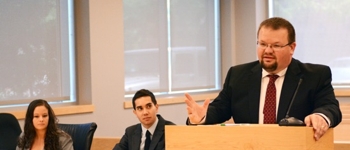 The School of Law hosts three internal competitions that lead to the selection of moot court, trial, and client advocacy competition teams that travel to regional and national competitions.
School of Law Publications
A student-run journal, the Arkansas Law Review publishes relevant scholarship on notable domestic and international issues to elicit informed discussions and provide intellectual and practical assistance to members of the legal community.
The Journal of Food Law & Policy is the first student-edited legal journal in the country devoted to the study of food law and its impact on society.The Journal has long been recognized as a leader in publishing articles and essays on food law and its impact on society.
Arkansas Law Notes features articles and current research from School of Law faculty. Law Notes is a tradition of the School of Law, dedicated to providing timely and insightful research on a variety of subjects to members of the Arkansas bar.