International Programs
The University of Arkansas School of Law encourages students to cultivate a global perspective on legal scholarship and the practice of law through its international programs. These courses help students to gain insight into a world that is more interconnected than ever before. International understanding helps students recognize influences on national and international policy and can enhance students' appreciation of specific topics such as human rights, energy, the environment or business.
Students with expertise in international law or culture have a world of opportunity beyond traditional legal fields and may wish to consider placements with the United Nations, the European Union, the International Court of Justice or international non-governmental organizations.
Cambridge Program
Professor Stephen Clowney
The Cambridge Study Abroad Program is a fully ABA-accredited program, jointly sponsored by Downing College of Cambridge University and the University of Mississippi School of Law, in consortium with the University of Arkansas School of Law, the University of Tennessee College of Law, and the University of Nebraska College of Law. The program lasts six weeks and includes courses in international and comparative law.
The dates for the program for 2016 are June 20-July 29, 2016. Some details about the program can be found on the University of Mississippi School of Law's program page.
For more information, contact Professor Stephen Clowney.
Russia Law Program
Professor Will Foster
The University of Arkansas School of Law continues to innovate with its study abroad and international law offerings. The Russia Law Summer Program, held in July and August, included two weeks of courses at the Fayetteville campus. While at the School of Law, the eight students in the program took classes from American and Russian faculty on topics including the Russian Constitution, Comparative Religious Freedom, Secession and Breakup of Nations, and International Tax.
For more information on the Russia Law Program, contact Professor Will Foster.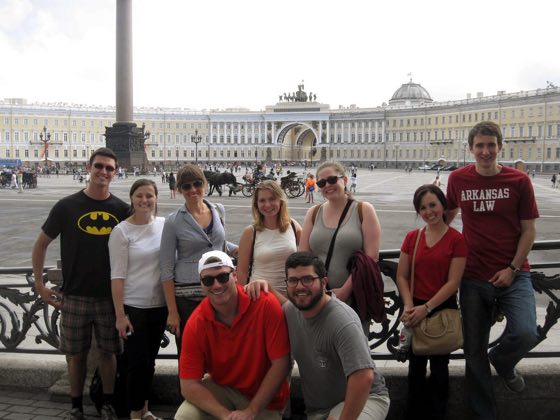 Transnational Negotiations
Professor Christopher Kelley
The Transnational Negotiation course is a two‐credit course designed to teach you cross‐cultural, transnational negotiation skills in an international setting. This fall, the course will be hosted abroad by the Law Faculty of the Taras Shevchenko National University in Kyiv, Ukraine.