Directory Profile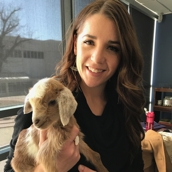 Lauren Manning
Lauren Manning is a food and agriculture lawyer based in Fayetteville, Arkansas. Lauren received her LL.M. degree from the University of Arkansas School of Law, her J.D. from University of the Pacific, McGeorge School of Law and her B.A. degree in Legal Studies from the University of California, Santa Cruz. She is admitted to practice law in California, and she practiced there for four years, handling a wide variety of civil litigation matters. Lauren moved to Fayetteville to attend the LL.M. Program in Agricultural and Food Law.
During the LL.M. Program, Lauren Manning helped to create Envisioning Zero Hunger, an interactive research website focused on global hunger issues, and she was part of the team that presented it during the 2016 United Nations World Food Program. Lauren was selected as the 2016 recipient of the Human Rights Essay Award from the Academy of Human Rights and Humanitarian Law at American University, Washington School of Law for her paper on food security in the context of extractive mining in Greenland.
Lauren now raises beef cattle, sheep, goats, and laying hens with Ozark Pasture Beef. She co-founded the Arkansas chapter of the National Young Farmers Coalition. And, she was featured in a Huffington Post article on the efforts of young people to break into farming, "Millennial Farmers Fight an Uphill Battle. It's Time To Support Them."
Lauren teaches the three substantive LL.M. courses: Farmed Animal Welfare, Farm Succession Planning, and Agricultural Cooperatives and Local Food Systems. She also works with LL.M. candidates on their writing requirement, teaching Advanced Legal Research and Writing. In addition, Lauren teaches in the J.D. Program (Drafting Civil Pre-Trial Documents) and in the Bumpers College of Agriculture (Agricultural Law Survey and Food Safety Law).
Lauren writes for AgFunderNews, an online news site covering investment and innovation in agriculture technology. She also writes for Grocery Dive and Food Dive and is the Web Content editor and contributor to the Sacred Cow Project.