Directory Profile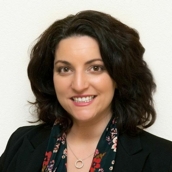 Nicole Civita
Nicole is an Instructor and the Sustainable Food Systems Specialization Lead in the Masters of the Environment Graduate Program at the University of Colorado Boulder. Her approach to the study of food is grounded in systems thinking and stewardship, attentive to relationships of care and reciprocity, and framed by comprehensive law and policy knowledge. Her current scholarship and advocacy identifies the ethical values and explores the dilemmas across the food chain, with particular attention to the well-being of workers and producers. Through this work, she aims to produce ethical guidance, actionable policy recommendations, and transparency-enhancing tools that enable nourishing, informed, and values-aligned choices about food. Nicole is also nationally recognized for her work on food waste and conservation policy and resilient place-based food systems.
Nicole also conducts applied food ethics research through the Global Food Ethics and Policy Program of the Johns Hopkins Berman Institute of Bioethics. She has represented farmers and food entrepreneurs in private practice with Handel Food Law, LLC.
Nicole teaches as an Affiliated Professor with the LL.M. Program, teaching courses in Food Justice and Urban Agriculture Law & Policy. She also works with our Food Recovery Project and is the author of the widely quoted LL.M. publication, Food Recovery: a Legal Guide as well as several other plain language guides that make sense of the legal dimensions of food conservation practices.
Nicole holds an LL.M. in Agricultural and Food Law from the University of Arkansas School of Law, a J.D., magna cum laude, Order of the Coif, from the Georgetown University Law Center, and an A.B. in American Studies and Creative Writing from Columbia University.
Selected Publications
Civita, N., "Resilience: The Food Policy Imperative For A Volatile Future", 45 Environmental Law Reporter 10663 (July 2015)
In light of human-induced climate change, rising global population, and the resulting pressures on agriculture and food systems, this Comment offers resilience as an essential organizing imperative for agrifood laws and policies, and laws and suggests preliminary steps in the direction of reforming agrifood policy for resilience
Civita, N., "Agrarians Feeding Communities: Reconnecting Federal Farm Policy and Nutrition Assistance For a More Just Agri-food System," ___ Northwestern Interdisciplinary Law Review __ (2014)
Connects the diverse, progressive goals of the food movement with federal food policy & proposes mechanisms for simultaneously improving individual & community food security & supporting sustainable, diversified regional agriculture
Civita, N., 2012 "Developments in Food Law & Policy," 18 Drake J. Agric. L. 39 (2013)
Reviews 2012's most significant developments in the areas of food safety, adulteration & foodborne illness, food additives, food marketing, labeling & advertising, biotechnology, organics, alternative agriculture, food insecurity & nutrition programs, livestock & meat production, agri-food chain labor & food-related chronic disease
Schneider, S., Civita, N., and Bernadett, L., Local Food Policies, Urban Agriculture: Policy, Law, Strategy, & Implementation, American Bar Association (forthcoming, Winter 2014)
Chapter reviewing policy tools for supporting urban agriculture.
Civita, N., Food Recovery: a Legal Guide, University of Arkansas School of Law (2013)
Plain-language guide to educate food sector businesses, non-profit feeding organizations & their attorneys about the protections afforded to food donors & nonprofit recipients.