Directory Profile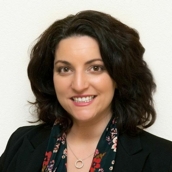 Nicole Civita
Nicole Civita is an Affiliated Professor with the LL.M. Program in Agricultural and Food Law. She teaches courses in Food Justice and Urban Agriculture Law & Policy. Professor Civita also directs the Food Recovery Project, a special initiative of the LL.M. program that focuses on two fundamentally irreconcilable problems: the overwhelming waste of food and the persistent existence of hunger in America. She authored the widely quoted publication, Food Recovery: a Legal Guide and several other plain language guides that make sense of the legal dimensions of food conservation practices. She is a nationally recognized expert and frequent speaker on the law and policy dimensions of food conservation policy. More recently, Nicole has been working with Program Director Susan Schneider to develop the Program's newest initiatives in food labeling.
Nicole also has faculty affiliations at other renowned and innovative institutions of higher education. She serves as Adjunct Faculty with the Berman Institute of Bioethics at the Johns Hopkins University Bloomberg School of Public Health. At John Hopkins, she works on the Global Food Ethics and Policy Program's Ethically Benchmarking Food Systems project, driving the development of a cutting-edge information product with the potential to radically increase transparency of food products and empower consumers to make ethically based food choices in line with their own values. Nicole also teaches in the Sustainable Food Systems program at Sterling College, an environmental stewardship-centered institution. She previously served as the Assistant Director of Sterling College's Rian Fried Center for Sustainable Agriculture and Food Systems, and led the development of its School of the New American Farmstead, continuing education in agro-ecological farming, sustainable food craft, and place-based entrepreneurship. Nicole also co-teaches a collaborative course called The Urban Food Experience for Sterling College and New York University.
Nicole also maintains an active law practice, serving as Of Counsel to Handel Food Law LLC. Her practice emphasizes forward-looking management of legal, enterprise, and reputational risks for farm and food businesses. When disputes arise, she helps her clients pursue efficient, beneficial resolutions that allow them to keep their focus on the food they produce. Earlier in her career, Nicole was an Associate at Hogan Lovells LLP with a practice in employment, commercial, and intellectual property law. She is a member of the California and New York bars.
From 2013 to 2015, Professor Civita was a Visiting Professor at the School of Law. In that capacity, she helped to transition the LL.M. Program into its hybrid, synchronous distance-learning format and to expand the curriculum.
Professor Civita holds her LL.M. in Agricultural and Food Law from the University of Arkansas School of Law, her J.D., magna cum laude, Order of the Coif, from the Georgetown University Law Center and an A.B. in American Studies and Creative Writing from Columbia University.
Nicole and her family currently live on a 6-acre homestead in Hardwick, Vermont, at the heart of the Green Mountain state's artisan food revolution.
Selected Publications
Civita, N., "Resilience: The Food Policy Imperative For A Volatile Future", 45 Environmental Law Reporter 10663 (July 2015)
In light of human-induced climate change, rising global population, and the resulting pressures on agriculture and food systems, this Comment offers resilience as an essential organizing imperative for agrifood laws and policies, and laws and suggests preliminary steps in the direction of reforming agrifood policy for resilience
Civita, N., "Agrarians Feeding Communities: Reconnecting Federal Farm Policy and Nutrition Assistance For a More Just Agri-food System," ___ Northwestern Interdisciplinary Law Review __ (2014)
Connects the diverse, progressive goals of the food movement with federal food policy & proposes mechanisms for simultaneously improving individual & community food security & supporting sustainable, diversified regional agriculture
Civita, N., 2012 "Developments in Food Law & Policy," 18 Drake J. Agric. L. 39 (2013)
Reviews 2012's most significant developments in the areas of food safety, adulteration & foodborne illness, food additives, food marketing, labeling & advertising, biotechnology, organics, alternative agriculture, food insecurity & nutrition programs, livestock & meat production, agri-food chain labor & food-related chronic disease
Schneider, S., Civita, N., and Bernadett, L., Local Food Policies, Urban Agriculture: Policy, Law, Strategy, & Implementation, American Bar Association (forthcoming, Winter 2014)
Chapter reviewing policy tools for supporting urban agriculture.
Civita, N., Food Recovery: a Legal Guide, University of Arkansas School of Law (2013)
Plain-language guide to educate food sector businesses, non-profit feeding organizations & their attorneys about the protections afforded to food donors & nonprofit recipients.