Directory Profile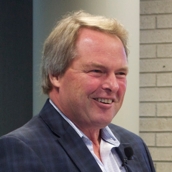 Neil D. Hamilton
Neil D. Hamilton is widely recognized for his insight into the complex issues that challenge our food system and is noted for his ability to recognize challenges on the horizon. His upcoming book, The Land Remains, blends personal memoir, the history of farmland conservation, and an analysis of contemporary challenges to tell the story how land shapes our lives.
Professor Hamilton taught agricultural law at Drake University Law School from 1983 to his retirement in 2019. He served as the Dwight D. Opperman Chair of Law and the founding director of the Agricultural Law Center at Drake. Under his leadership, the center established a national and international reputation for excellence in research, education and public extension on food policy, agricultural law and rural development. Hamilton continues to teach as a visiting adjunct professor in the LL.M. Program in Agricultural and Food Law at the University of Arkansas School of Law.
Professor Hamilton chaired the Iowa Food Policy Council for seven years for then Gov. Tom Vilsack and through a cooperative agreement with USDA helped to create and fund food policy councils in 15 other states. He is the author of one of the very first articles on this: "Putting a Face on Our Food: How State and Local Food Policies Can Promote the New Agriculture," 7 Drake Journal of Agricultural Law 407 (2002).
Hamilton is a past-president of the American Agricultural Law Association (AALA) and a recipient of its Distinguished Service Award. He has authored several books, including the national award winning, What Farmers Need to Know About Environmental Law and the Legal Guide to Direct Farm Marketing. In addition to his work on local food systems, he has written many law review articles on topics such as food democracy, rural lands, intellectual property rights and plant genetics, the future of agricultural law, sustainable agricultural land tenure, agricultural industrialization and production contracts. He has conducted legal seminars throughout the U.S. and in twenty foreign countries. He has actively served on the advisory board of the Leopold Center for Sustainable Agriculture at Iowa State University, the Iowa Natural Heritage Foundation, the Food Corps, the Seed Savers Exchange, and the Iowa Food Policy Council. He and Vilsack worked together again when Hamilton served as an informal advisor during Vilsack's tenure as the U.S. secretary of agriculture.
Hamilton has a Bachelor of Science from Iowa State University, 1976, in forestry and economics, and a Juris Doctor from the University of Iowa. He and his wife Khanh own Sunstead Farm near Waukee, Iowa, and raise produce and flowers for local restaurants.