Directory Profile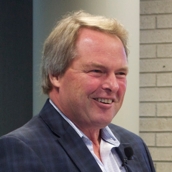 Neil D. Hamilton
Prof. Neil D. Hamilton is the Dwight D. Opperman Chair of Law and Director of the Agricultural Law Center at Drake University Law School in Des Moines, Iowa. He has directed the Center since 1983 and helped establish its national and international reputation for excellence in research, education and public extension on food policy, agricultural law and rural development.
He is past-president of the American Agricultural Law Association (AALA) and has authored several books, including the nationally award winning What Farmers Need to Know About Environmental Law (1990) and the Legal Guide to Direct Farm Marketing (1999). He has written numerous law review articles on topics such as: food democracy, rural lands, intellectual property rights and plant genetics, the future of agricultural law, sustainable agricultural land tenure, agricultural industrialization, and production contracts. He has conducted legal seminars throughout the U.S. and in twenty foreign countries. He was on the Advisory Board of the Leopold Center for Sustainable Agriculture at Iowa State University from 1987 to 2008. He is on the boards of the Iowa Natural Heritage Foundation, the Food Corps, and the Seed Savers Exchange. From 2000 to 2006 he chaired the Iowa Food Policy Council and today serves as an informal adviser to U.S. Secretary of Agriculture Tom Vilsack.
He has a B.S. from Iowa State University, 1976, in Forestry and Economics, and a J.D. from The University of Iowa. He and his wife Khanh own Sunstead Farm near Waukee, Iowa and raise produce and flowers for local restaurants.
Areas of Expertise
Agricultural Law, Land Use, Legislation, Food and the Law, Environmental Regulation of Agriculture, Wind Law
Experience
Drake Professor since 1983
Assistant Attorney General, Iowa Dept. of Justice (1979-1981)
Assistant Professor, Arkansas (1981-1983)
Selected Publications
What Farmers Need to Know About Environmental Law, Drake Agricultural Law Center
A Livestock Producers Legal Guide to: Nuisance, Land Use Control & Environmental Law, Drake Agricultural Law Center
A Farmers Legal Guide to Production Contracts, Farm Journal Publishing
The Legal Guide to Direct Farm Marketing, Drake Agricultural Law Center
Significant Accomplishments
Board of Directors, Iowa National Heritage Foundation
Board of Directors, Seed Savers Exchange
Past president, American Agricultural Law Association
Chair, Iowa Food Policy Council (2000-2007)
Past Chair, Agriculture Law Section of the Association of American Law Schools
Advisory Board, Leopold Center for Sustainable Agriculture (1987-2009)
USDA Small Farms Advisory Committee, Vice Chair (1997-2000)