Directory Profile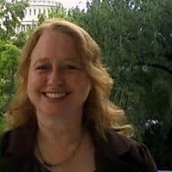 Poppy Davis
Poppy Davis is the Program Director for Sustainable Agriculture Education (SAGE). She oversees a number of multi-partner collaborations to develop place-based projects and toolkits for urban-edge agricultural revitalization projects. She also develops and executes new program work providing agriculture-related technical services such as foodshed and agricultural economic viability assessments, implementation plans and business plans. In addition, she provides direct farm business education to beginning farmers and ranchers associated with beginning farmer and rancher projects run by SAGE and SAGE's partners. Resources and curriculum for beginning (and established) farmers and ranchers may be found on her occasional blog.
Poppy began her career as a California Certified Public Accountant working in small accounting firms with an emphasis on family-scale farms and ranches and related estates, business, and nonprofit organizations. She translated her intimate knowledge of agricultural issues and farm-family decision-making to the policy arena, working for the United States Department of Agriculture (USDA), first for the crop insurance program in the Western Region and most recently as the National Program Leader for Small Farms and Beginning Farmers and Ranchers in Washington, D.C. While at the USDA she served as a member of the management team for Secretary Vilsack's "Know Your Farmer, Know Your Food" initiative, and co-founded the USDA 4 Veterans, Reservists & Military Families, and Women and Working Lands workgroups.
Poppy holds a Bachelor of Science in Agricultural Economics from the University of California at Davis, a Masters in Journalism from Georgetown University, and a Juris Doctor with a certificate in Agricultural Law from Drake University Law School. Poppy is also a past fellow of the California Agricultural Leadership Program (Class 35).
Poppy's nonprofit experience includes a year as the Executive Director of the Ecological Farming Association, and service on the boards of organizations including the Farmer-Veteran Coalition, Carrot Project New England, Red Tomato, Center for Land Based Learning, and Community Alliance with Family Farmers.