Alumni Spotlight: Karen Roberts, JD '95
A Different Path to Success
Even as an undergraduate, Karen Roberts knew she wanted to be an attorney and practice at a law firm. Twenty years later, having worked her way through the ranks of the world's largest retailer – and not at a law firm – she is general counsel and executive vice president of Wal-Mart Stores, Inc.
Roberts entered the University of Arkansas School of Law in the 1990s and learned from legendary professors.
"That first year was frightening," she says. "Professors like Ray Guzman and Phil Norvell were intimidating. Now my husband and I are friends with Ray and Terry Guzman and with Phil, but it was tough to think of them as friends when I was a first-year student."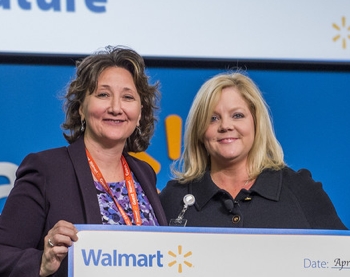 Roberts interviewed at law firms after graduating in 1995, but an offer to join the real estate department at Walmart intrigued her. She took the job, planning to try it out for a couple years before heading to a firm.
"I learned that I loved being close to the business," she says. "I figured out quickly that I wanted to work in a business environment, not in a firm."
The job came with some challenges.
"I probably picked the wrong major," Roberts says. "When I first started, I didn't even know what my colleagues were talking about. I had to go buy a book about real estate so I could learn how many square feet were in an acre."
A quick study, she spent three years on the business side of Walmart. In 1998, she transitioned to the legal department. In 2005, she became vice president and general counsel of the real estate and construction department, a role she served in for three years.
"The business experience I received my first few years carried over and was invaluable," she says. "I learned about the company and retail, which made me a better lawyer. I understood the deals and the terms, and I was better equipped to serve my clients."
In 2008, Roberts was promoted to senior vice president and chief compliance officer. Three years later she advanced again to executive vice president and president of Walmart Realty. She oversaw the opening of new stores and maintenance of existing stores, putting her in charge of a portfolio of billions in capital and almost one billion square feet.
Drawing on her experience, Roberts was promoted in 2013 to general counsel of Walmart Legal, where she leads Walmart's team of in-house lawyers in Bentonville, Ark., and across the globe. She and her team forecast possible legal risks and work ahead of them to ensure the company's readiness, as well as defend the company's interests in wide-ranging legal matters. She also leads key legal department initiatives such as its diversity and inclusion efforts and Medical-Legal Partnership Program that provides pro bono legal advice to families facing health issues with legal, rather than medical solutions.
"We face an enormous breadth of issues around the world – every legal issue imaginable," she says. "That's a selling point as we are recruiting lawyers into Bentonville or elsewhere. The size and scale of our operation is exciting, and it makes for great professional experience."
Despite the constant, time-sensitive demands of the operation, as general counsel, Roberts also focuses on strategy.
"A particular focus of mine is talent," she says. "How do we identify, recruit, and retain the next generation of talent for the legal department? We operate in 27 countries, and we work to develop a truly global department. How do we bring together the good work of great lawyers around the globe?"
"There's a difference in hiring someone now versus even five years ago," she says. "We're looking for someone who can handle the volume of work and is a good culture fit. We always need litigators, but due to the evolving nature of the practice we've begun hiring more intellectual property and e-discovery lawyers."
Roberts' colleagues praise her approachability and her commitment to family, which includes two daughters, as qualities that have made her effective in every role she's held. Each promotion has been met with respect and approval among her coworkers.
"I'm fortunate to work for a company that allows me to be with my family," she says. "I still need to get the work done, and technology allows for that. It is incumbent upon you as a professional how you manage work and family responsibilities, but I'm there for almost every sports or school event."
Having earned great success in both her career and personal life, Roberts is able to offer advice and guidance to students at the School of Law. She returns often to assist the Walmart/Law School Mentoring Program and even gave the keynote address to last year's entering class. She shares the following advice with students and recent grads:
"Always act with integrity. Think broadly about your career. I chose a different path, and I'm fortunate to have experience in business, compliance, and law. Have an open mind. What you went in believing was your dream job might turn out to be something different."
Previous Alumni Spotlights