Food Recovery in Northwest Arkansas
Food Recovery in Northwest Arkansas
The need to address food insecurity, particularly child hunger, in Arkansas is painfully well documented, where 1 in 6 people struggle with hunger. In fact, Arkansas has some of the highest rates of food insecurity in the nation. In 2018, a Feeding America study found that 163,800 children in Arkansas -- or about 23.2 percent of the state's children -- were food insecure.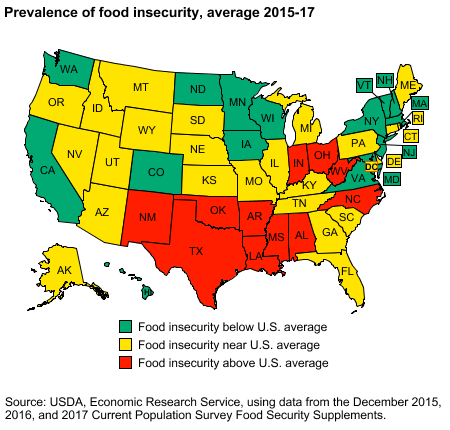 Because food insecurity is an especially pervasive and crippling problem in Arkansas, food recovery is even more essential here than in other states and regions. Fortunately, there are a number of organizations in Northwest Arkansas promoting food recovery and working to end food insecurity.
Feed Fayetteville does a remarkable job of promoting food recovery and food literacy and of improving access to nutritious food for all members of the community. Tri Cycle Farms in Fayetteville gives a third of its produce to food pantries and community meals. And Seeds that Feed collects surplus produce from local farms and distributes it to those in need. The Northwest Arkansas Food Bank has 11 mobile pantries serving food insecure individuals with limited transportation. You can also view a complete list of food pantries in Arkansas.
The University of Arkansas has a number of programs in addition to the Food Recovery Project, including the Jane B. Gearhart Full Circle Food Pantry, and Razorback Food Recovery. Northwest Arkansas Community College has also partnered with Campus Kitchens to end food waste and food insecurity in the region.
All the latest developments on food recovery activities can be found on the Food Recovery Project blog.