Student Spotlight | Daveante Jones
Student Spotlight | Daveante Jones
Daveante Jones, Writing His Way to Success
Third-year student Daveante Jones is enjoying success at the University of Arkansas School of Law. He was named as candidate to the Arkansas Law Review in 2014 and is articles editor this year. He has made the dean's list four out of five semesters and is in the top quarter of his class. Always modest, Jones is quick to recognize the influence of family, friends, professors and mentors on his accomplishments. He credits a host of people for the inspiration to work hard and for helping to chart his course to success.
Jones grew up in Ashdown, Little River County, under the strong influence of his mother, Dejuanna Northcross. He has two younger siblings, brother Treymaine, a high school senior, and sister Ashanti, a 6th grader.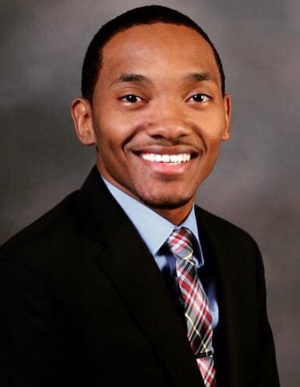 She always gives it her all, in whatever she does," says Jones of his mother. "She is an excellent role model, my hero, my #1 fan and supporter. I work as hard as I do because I witness my mother's hard work, and I want to do the same. I always want my family to be proud of me and to see me as a role model, so I always do my best."
The discovery of law as a career path came as a surprise to Jones. In high school, he enjoyed mathematics and expected to pursue a math-oriented career. His enthusiasm for the science and engineering world waned, however, upon reaching calculus. He tells the story with a familiar smile and a shake of his head.
While an undergraduate at Southern Arkansas University in Magnolia, Jones was introduced to the pre-law program of the political science department by fraternity brother Christopher Harris. The rest, as they say, is history.
"I fell in love with the law," Jones says, and he has never looked back.
Jones speaks fondly of his experience at SAU. He was active in Kappa Alpha Psi Fraternity, achieving the fraternity's highest honor, Kappa Fellow. He won several awards including the Outstanding Student in History, Political Science and Geography Award before graduating cum laude from the SAU Honors College in 2012. Jones recognizes Harris and many of his Kappa Alpha Psi brothers as important mentors along the path to law school.
Professor Danielle Weatherby, who teaches Legal Research and Writing to first-year students, is another person Jones is quick to recognize, saying that the writing skills honed in her class have opened the door to opportunity on more than one occasion.
"Daveante is hard-working, intellectually curious and humble, the combination of which made him a pleasure to have in the classroom," Weatherby says. "His can-do attitude, coupled with his quiet sense of confidence and excellent sense of humor, will make him an asset to any firm."
Jones has thrived in the learning environment at the University of Arkansas School of Law and wrote his way into Arkansas Law Review.
"Being named to Law Review is an incredible honor and working as articles editor is invaluable experience," Jones says. "It has really helped me see how projects fit together and to see what works and what doesn't work."
In addition to Law Review, Jones is active in the Black Law Students Association and the University of Arkansas Board of Advocates, serving as treasurer of both. Jones is active in the Putman Inn of Court, helping to organize continuing legal education opportunities for members. He is the recipient of highly-prized scholarships, including the Wal-Mart Legal Diversity Scholarship, the Friday, Eldredge & Clark/Herschel Friday Scholarship, the Baker Donelson Diversity Scholarship and the W. Harold Flowers Society Scholarship.
Jones has clerked at firms in Houston and Little Rock since beginning law school in 2013. His most recent clerkship at Wright, Lindsey & Jennings, LLP in Little Rock resulted in a job offer. Upon completing law school and passing the bar, Jones plans to join the firm's Labor and Employment section. When asked what he thinks the lawyers at WLJ saw in him that created the offer, Jones credits the exceptional writing skills learned from Weatherby.
"They noticed my writing ability immediately," he says. "They also liked my conversational skills and valued my ability to talk to people from all walks of life. It is essential for a labor and employment lawyer to be able to connect with everyone in a company, everyone from the CEO to the janitor."
Jones is anxious to complete law school, take the bar and to start his legal career. He says he will always make time to mentor others and to "pay forward" the encouragement, guidance and inspiration he has received.
"I want to help people who are less fortunate, because people have helped me get to where I am today."
Jones participated in the Legal Aid of Arkansas Road to Justice program in West Memphis last spring, traveling with staff attorneys and student volunteers to provide legal services to qualifying clients throughout the Arkansas Delta. Jones returned to his old stomping grounds at Southern Arkansas University this fall where he participated in Kappa Alpha Psi's Family Day, an opportunity to meet and encourage current members.
"I look forward to watching what I know will be a highly successful career for Daveante" Weatherby says.
The entire law school community is eager to see where Jones' hard work, determination, intellect and excellent writing skills lead him.