Student Spotlight
Celina Walker and Ryan Smith: Friends with a Shared Passion for Helping Others
Third year law students Celina Walker and Ryan Smith uncovered a need for their developing professional skills and burgeoning legal networks while sorting donations and stocking shelves at Fayetteville's 7Hills Homeless Center. The two volunteers, who share a passion for helping others, observed the center's clients facing day-to-day challenges that call for legal advice in addition to their struggle to find food, clothing and shelter. The students also came to understand that the homeless often lack the knowledge, connections or means to obtain the legal advice they need. In response, Walker and Smith helped create the 7Hills Legal Help Desk during their 2L year and volunteer their time, knowledge and talents to making the project a success.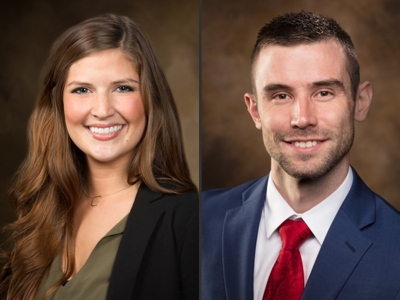 Walker and Smith have been a driving force behind many of the University of Arkansas School of Law's pro bono activities. Although classmates, the two were not well acquainted until volunteering at 7Hills led to their alliance.
"We were both still just volunteering at 7Hills," Walker said. "We randomly worked the same shift for a few weeks in a row and just had fun."
As regular volunteers, the pair worked every Friday helping with routine tasks such as sorting donations and stocking shelves. In addition to getting to know each other, they began getting to know the organization, its clients and other volunteers. The added familiarity helped them see the needs of clients in an intimate way.
As fall gave way to winter, they observed clients needing warm clothing, particularly shoes, so they organized a shoe drive within the law school community. Walker and Smith also heard clients talk of situations involving domestic abuse, complicated divorces, child custody conflicts and benefit claims – all matters that would benefit from legal advice.
Then, Smith met fellow 7Hills volunteer Stan Adelman, a lawyer and adjunct law professor who had a long-held idea of organizing some sort of legal assistance for the homeless. Smith introduced Adelman and Walker, the three began talking, brainstorming and meeting with 7Hills management and the law school's pro bono and community engagement director, and the 7Hills Legal Help Desk was born.
Walker, Smith and Adelman each brought strengths to the partnership. Adelman, a resident of Fayetteville and an itinerant law professor who accepts visiting professorships at law schools across the county, had the legal connections needed to muster donations of professional services. He also had extensive experience working as legal counsel for state agencies and a clear idea of how to go about setting up the service but little time for managing the day-to-day scheduling and planning. Walker and Smith were able to take on the management responsibility as part of their volunteer commitment to 7Hills.
Student Spotlights