Student Spotlight
Student Spotlight: Alexis Acello
Alexis "Lexi" Acello has a passion for helping others. That passion led the 3L to the University of Arkansas School of Law and placed her on a path to become the school's 2020-21 Pro Bono Fellow, a title that recognizes and supports students committed to pro bono service. As Pro Bono Fellow, Acello is educating, inspiring and organizing fellow students to participate in the school's Public Service and Pro Bono (previously known as Pro Bono and Community Engagement) program, a task that includes helping organize the school's participation in the American Bar Association's National Pro Bono Week slated for Oct. 25-31.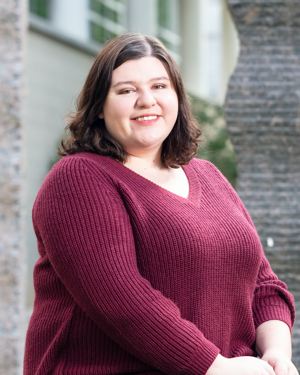 Originally from Clarksville, Acello is a 2011 graduate of the Arkansas School for Mathematics and Science in Hot Springs, and in 2018 she earned a Bachelor of Arts in political science from the Fulbright College of Arts and Sciences. She is a first-generation college graduate. Near the end of her undergraduate studies, she knew she wanted to be an advocate for people who need a voice and that law school was the best preparation for the career she desired. Her resources, however, were limited.
"When I first began thinking about going to law school, I talked myself out of it," Acello said. "I knew I wanted to be an advocate, but I also thought that such a prestigious education was out of my financial reach. The desire strengthened during my senior year and I stubbornly landed on this mantra as I confronted financial obstacles: the country needs advocates from all backgrounds, so why not me?"
Scholarship support helps many talented students like Acello pursue careers that seem financially unattainable. She has been encouraged throughout her law school career by the generosity of others. She was the 2019-20 recipient of the Arkansas Bar Foundation's Vincent W. Foster Jr. Scholarship. She has received several School of Law scholarships including the Mike and Billie Lax Family Scholarship, Eual Dean and Fern Nance Social Justice Endowed Scholarship, Hemmingway Family Award and James R. Van Dover Pro Bono Scholarship. The support has allowed time for her to demonstrate her passion by participating in the school's pro bono projects.
Student Spotlights