Student Spotlight
Elise Holman: Taking Law School to the Ozarks Community at "At Large"
University of Arkansas School of Law third-year student Elise Holman found a way to combine her legal studies and love of journalism into an externship that took the law school to the greater university community and beyond. During the fall semester she produced a series of radio spots for Ozarks at Large, the locally produced news magazine on KUAF 91.3 Public Radio, the Northwest Arkansas NPR affiliate. The pieces explored current issues in the news and focused on the law surrounding each topic.
"I always knew I wanted to come to law school and even after realizing I had a love for journalism as an undergrad," Holman said. "I knew that if I went to law school, I would have the option of practicing law, or perhaps making my way into journalism as a legal correspondent."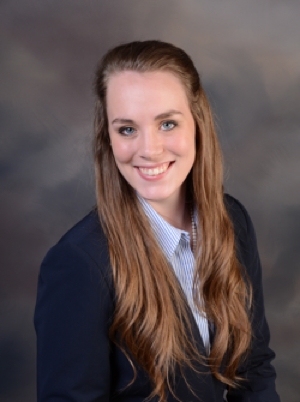 Holman majored in mass communications at Ouachita Baptist University in Arkadelphia before starting law school in 2014. The mass communication program provided Holman with practical journalistic experience in addition to her coursework. She wrote pieces for the school newspaper and yearbook, and she hosted the Ouachita Show, the university's news program that airs on local cable. As part of the curriculum, she interned at KHBS/KHOG Channel 40/29, one of the largest news media outlets in Northwest Arkansas. Her interest in reporting, however, did not change her goal of attending law school. Instead, after two years of law school, she began thinking about ways to weave her nascent legal career with her passion for journalism.
Student Spotlights