Student Spotlight | Elise Holman
Student Spotlight | Elise Holman
Elise Holman: Taking Law School to the Ozarks Community at "At Large"
University of Arkansas School of Law third-year student Elise Holman found a way to combine her legal studies and love of journalism into an externship that took the law school to the greater university community and beyond. During the fall semester she produced a series of radio spots for Ozarks at Large, the locally produced news magazine on KUAF 91.3 Public Radio, the Northwest Arkansas NPR affiliate. The pieces explored current issues in the news and focused on the law surrounding each topic.
"I always knew I wanted to come to law school and even after realizing I had a love for journalism as an undergrad," Holman said. "I knew that if I went to law school, I would have the option of practicing law, or perhaps making my way into journalism as a legal correspondent."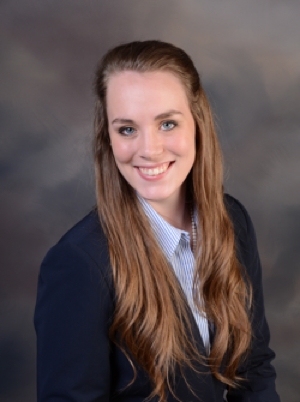 Holman majored in mass communications at Ouachita Baptist University in Arkadelphia before starting law school in 2014. The mass communication program provided Holman with practical journalistic experience in addition to her coursework. She wrote pieces for the school newspaper and yearbook, and she hosted the Ouachita Show, the university's news program that airs on local cable. As part of the curriculum, she interned at KHBS/KHOG Channel 40/29, one of the largest news media outlets in Northwest Arkansas. Her interest in reporting, however, did not change her goal of attending law school. Instead, after two years of law school, she began thinking about ways to weave her nascent legal career with her passion for journalism.
"I am an avid public radio listener and learned that KUAF has an internship program. So, I thought they might be open to partnering with me through the law school's externship program."
Holman pitched her idea to professor Angie Doss, the law school's director of externships, and the group who made Holman's externship possible began to manifest itself. Doss was open to the idea of placing an extern in a nontraditional setting but told Holman she would have to do the additional legwork the placement would require.
"I told Elise she would have to persuade KUAF to accept and sponsor the project," Doss said. "I said she would be required to write a proposal for the law school faculty outlining the parameters of the externship, and most dauntingly, she would have to find a field supervisor at KUAF, with a J.D., to oversee her work."
Doss mentioned Holman's idea in a faculty meeting and the pieces began falling into place. Law professor Laurent Sacharoff was excited about the prospect and offered to arrange an introduction to his friend Kyle Kellams, KUAF news director and the creator and host of Ozarks at Large.
Kellams wanted to do a series of legal stories, but was having trouble finding the time. The summer's high profile news about traffic stops gone wrong and the upcoming elections made a legal series attractive and timely. Kellams was happy to meet Holman and to learn of her interest and experience. Next, Ozarks at Large's Militant Grammarian, long-time University of Arkansas journalism professor and University of Arkansas School of Law alumna Katherine Shurlds, was brought in. Holman had found her outlet and field supervisor.
"Elise came to me. It was totally her idea in that she had a broadcast background," Shurlds said. "I was thrilled to meet with her. We brainstormed ideas and I quickly said, 'Oh yes, I will do that.' Elise reminded me of myself. I was always looking for ways to combine law and journalism. The year after law school, I produced a series of segments for public access television called The Law Today," Shurlds said with a deep, dramatic, self-effacing voice. "Elise was pretty much on her own. She wrote the scripts and sent them to me to edit. I am an editor, so I edited, but I wouldn't say heavily. She did a really good job I thought."
Over the course of the semester, Holman, under the guidance of Kellams and Shurlds, produced seven segments for Ozarks at Large. Five of the segments addressed the law surrounding hot topics in the news: "Traffic Stops and the Law," "Registering and Voting," "Voting Rights in Arkansas," "The Remaining Marijuana Ballot Item" and the "Electoral College's Big Day." The pieces include interviews with area experts, including University of Arkansas School of Law professors, and are intended to help the public understand the law. The sixth piece, a preview of the 2016 Arkansas Law Review Symposium featuring an interview with the symposium's keynote speaker, broadened the event's audience beyond the 250 seats in the school's courtroom. Holman serves as the 2016-2017 Arkansas Law Review symposium editor and was eager to produce a quality program to share the symposium with KUAF's listening audience. Segment seven, "Finding a Lawyer in Rural Arkansas," considers the challenges of those living outside the state's more populated areas who need legal counsel.
Holman remains passionate about journalism, but is dedicated to the law and to becoming a lawyer, and her classmates support her path. She received the 2017 Bogle-Sharp award, a peer-selected honor given to the graduating law student most likely to succeed in the practice of law. Holman will clerk for Judge Bobby E. Shepherd of the United States Court of Appeals for the Eighth Circuit in El Dorado for one year after graduating in May 2017.
"It will be interesting to watch Elise's career unfold," Doss said. "She will be an excellent lawyer, but will always have a journalist's calling. There were extra requirements placed on her externship due to its unique nature. Elise found solutions, made allies and produced some very good work. She took the School of Law out into the community."