Student Spotlight | Celina Walker and Ryan Smith
Student Spotlight | Celina Walker and Ryan Smith
Third year law students Celina Walker and Ryan Smith uncovered a need for their developing professional skills and burgeoning legal networks while sorting donations and stocking shelves at Fayetteville's 7Hills Homeless Center. The two volunteers, who share a passion for helping others, observed the center's clients facing day-to-day challenges that call for legal advice in addition to their struggle to find food, clothing and shelter. The students also came to understand that the homeless often lack the knowledge, connections or means to obtain the legal advice they need. In response, Walker and Smith helped create the 7Hills Legal Help Desk during their 2L year and volunteer their time, knowledge and talents to making the project a success.
Walker and Smith have been a driving force behind many of the University of Arkansas School of Law's pro bono activities. Although classmates, the two were not well acquainted until volunteering at 7Hills led to their alliance.
"We were both still just volunteering at 7Hills," Walker said. "We randomly worked the same shift for a few weeks in a row and just had fun."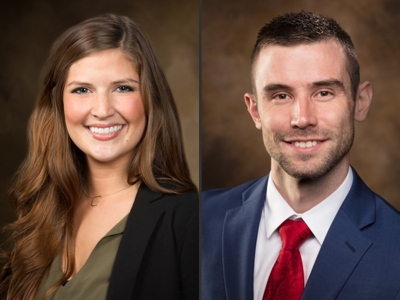 As regular volunteers, the pair worked every Friday helping with routine tasks such as sorting donations and stocking shelves. In addition to getting to know each other, they began getting to know the organization, its clients and other volunteers. The added familiarity helped them see the needs of clients in an intimate way.
As fall gave way to winter, they observed clients needing warm clothing, particularly shoes, so they organized a shoe drive within the law school community. Walker and Smith also heard clients talk of situations involving domestic abuse, complicated divorces, child custody conflicts and benefit claims – all matters that would benefit from legal advice.
Then, Smith met fellow 7Hills volunteer Stan Adelman, a lawyer and adjunct law professor who had a long-held idea of organizing some sort of legal assistance for the homeless. Smith introduced Adelman and Walker, the three began talking, brainstorming and meeting with 7Hills management and the law school's pro bono and community engagement director, and the 7Hills Legal Help Desk was born.
Walker, Smith and Adelman each brought strengths to the partnership. Adelman, a resident of Fayetteville and an itinerant law professor who accepts visiting professorships at law schools across the county, had the legal connections needed to muster donations of professional services. He also had extensive experience working as legal counsel for state agencies and a clear idea of how to go about setting up the service but little time for managing the day-to-day scheduling and planning. Walker and Smith were able to take on the management responsibility as part of their volunteer commitment to 7Hills.
The 7Hills Legal Help Desk is much more than the name suggests. It does not provide a person who fields phone calls from clients but is more like a help table staffed by several legal volunteers who consult with clients and get to know them. The service is offered two Fridays per month. Clients may sign up in advance or walk in. Volunteers take notes at each session so that there is a record of clients and reference information for follow up.
"None of us specialize in a certain area, but through our combined education and experience we usually come up with a solution," Walker said.
Volunteers had assisted at least 75 people with legal issues between the help desk's opening in January of 2017 and the end of that year. A licensed attorney must supervise all student volunteers, so the recruitment of lawyers to staff the desk is vital to the success of the program. Walker and Smith have been instrumental in planning, organizing, promoting, scheduling and staffing the helpdesk, which has expanded quickly. Legal Aid of Arkansas now contributes volunteers, and some clients have obtained legal representation through that organization.
"The number of people we help ranges each week," Smith said. "Some weeks there may be five or six that stop by and other weeks it may be north of 10. Legal Aid of Arkansas sits in on every meeting."
When recruiting volunteers, Walker and Smith often share the story of Robert. Although homeless, he was working at a gas station. On one of his shifts, the cash drawer came up $5 short. As retribution, the owner deducted $60 from Robert's paycheck, twice. Help desk volunteers assisted Robert in filing a wage claim with the Department of Labor – a complex process with forms that were difficult for even a second year law student to complete.
"At first we completed the wrong form," Walker said. "And, then they [the Department of Labor] lost the claim."
Persistence paid off, and Robert finally recouped his $120 and regained some faith in justice and fairness.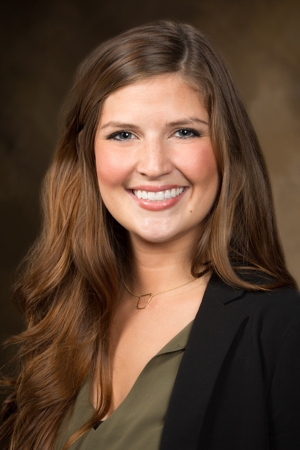 Walker and Smith are accomplished individuals and excellent law students. Walker, a native of Mena, earned a Bachelor of Arts in journalism with a concentration in advertising and public relations through the University of Arkansas J. William Fulbright College of Arts and Sciences and the Honors College. As a law student, she manages her contributions to the community and law school while navigating the rigors of her academic career.
Her scholastic achievements were recognized by her selection as a member of the student-edited Journal of Food Law & Policy. She is the recipient of several competitive scholarships, including the Governor Francis A. Cherry Scholarship, the F.H. Martin Scholarship and an Arkansas Bar Foundation Scholarship. She has been an extern at Walmart and a law clerk at Kutak Rock, Friday Eldredge and Clark, Mitchell Williams and Dallas-based Hawkins Parnell Thackston and Young.
Walker is active in many of the law school's student organizations, including the University of Arkansas Law Mentors, Hispanic Law Students Association and Women's Law Student Association and holds leadership positions in the University of Arkansas Law Young Democrats and Student Bar Association. She is the 2017 recipient of the Robert F. Fussell Pro Bono Award, an honor bestowed on a University of Arkansas School of Law student who, through his or her law school career, exemplified ideals of service, giving and professional responsibility. The honor typically goes to a graduating student, but Walker won it during her 2L year.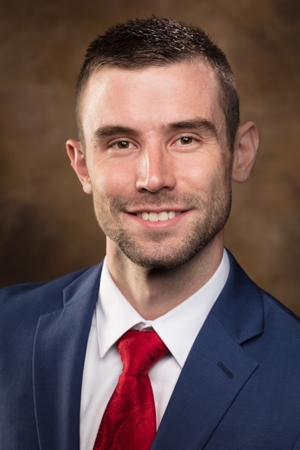 Smith, a native of the Dallas-Fort Worth suburb of Keller, earned a Bachelor of Science in political science from Ohio's Heidelberg University in 2013. He played NCAA soccer all four years, while completing an honors program and graduating cum laude. In 2014, he earned a Master of Arts in sport, law and society from Leeds Metropolitan University in the United Kingdom while playing soccer for the Richmond International Academic and Soccer Academy.
His academic excellence has continued at the University of Arkansas. He has made the dean's list each semester of his law school career and is the 2017-18 articles editor of the Arkansas Law Review. He presented the top oral argument for the Appellant in Legal Research and Writing II course. In addition to his pro bono work, he serves as a 1L mentor and as the 3L representative to the Law School Honor Council. He is the Student Bar Association public services officer and has been an extern at Walmart, Legal Aid of Arkansas and at the Arkansas Attorney General's office. He has clerked at Harrington Miller Kieklak Eichmann and Brown in Springdale, the Fayetteville office of Kutak Rock LLP and at the Fayetteville office of Rose Law Firm.
In their third year of law school, Walker and Smith have had less time to be as directly involved, but 7Hills Homeless Center and the University of Arkansas are pleased with the creation and success of the Legal Help Desk.
"7hills has been fortunate to expand the Legal Help Desk service this year," said Solomon Burchfield, director of operations at 7Hills. "Stan took the lead bringing together others in the legal profession – like the public defender's office and Legal Aid – Ryan and Celina played the lead role from the student side – showing up twice a month to help individuals experiencing homelessness work through legal problems. We hope to keep it going for a long time."
Cynthia Nance, Dean Emeritus, Nathan G. Gordon Professor of Law and director of Pro Bono and Community Engagement at the University of Arkansas School of Law, is also enthusiastic about the program and the law school's involvement.
"Celina, Ryan and the 7Hills Legal Help Desk are playing a crucial role in addressing the needs of the most vulnerable members of the Northwest Arkansas Community," she said. "In doing so, they provide an invaluable community service. The law school is proud of their work, and the fact that they are providing access to justice for an underserved population."
Nance has helped staff the help desk – a testament to the diversity of legal professionals contributing their talents to the service. Walker, Smith and all of the 7Hills Legal Help Desk volunteers have learned the value of a friendly ear.
"Sometimes we can't actually help a client because their problem isn't legal or it just can't be solved," Walker said. "But, I think the clients appreciate having someone listen to their problems and acknowledge their struggles."
Robert, who had his paycheck garnished, wrote in an email:
"Thank you Celina. It's not much but I've never receive[sic] help like youv [sic] givin [sic] me … it help[sic] think its [sic] not gonna always be so bad which is what I really need. Thank you."
As Walker and Smith rapidly approach graduation and transitioning into a new phase of their professional lives, both want to remain dedicated to pro bono service.
"I feel privileged to be becoming a lawyer," Smith said. "I am getting a great education, and I should always do something that benefits someone other than myself."
Walker is currently clerking at Mitchell Williams and has accepted the offer for a permanent position in the business group of the firm beginning in the fall. Smith has accepted a two-year clerkship with the Hon. P.K. Holmes III, Chief Judge of the Western District of Arkansas. Both remain dedicated to the 7Hills Legal Help Desk. Their last act of service to the project was the identification and training of the next generation of University of Arkansas School of Law students to oversee the desk and maintain the relationships that make the project successful. Walker happily reports that the desk remains open for business.
"Second-year law students are running the desk, just like we hoped!" she said.