Alumni Spotlight | Katherine Shurlds
Alumni Spotlight | Katherine Shurlds
Digger of Teaching, Journalism and the Law
The enduring and comprehensive career of Katherine Shurlds (J.D. '94) is the confluence of life-long passions, influences and experiences. Although primarily a practically-seasoned professor of journalism, with a flair for the dramatic, Shurlds also enjoyed the experience of earning a degree at the University of Arkansas School of Law.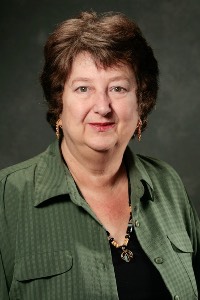 She wove her journalistic background, experience and legal education into a long and respected teaching career in the Walter J. Lemke Department of Journalism in the J. William Fulbright College of Arts and Sciences at the University of Arkansas. Although teaching exclusively online these days, she remains a beloved teacher and esteemed colleague.
"When I taught in the classroom, it was like a performance twice a week and I just really dug it. And, the students did too," Shurlds said. "I had, probably, the best attendance in my class 'cause students just liked hearing the stories and the way I spun the law. Law is really interesting. Law is like journalism: it really happened."
She regularly shares her passion for teaching, wit and grammatical wisdom through two public outlets. Her reputation for being tough, resolute and a bit of a hippie fits her "Militant Grammarian" persona, a recurring guest on a locally produced radio news magazine. Her love of current events and theatrics compels her to be a driving force behind the Northwest Arkansas Gridiron Show, an annual comedic variety show delivered by area journalists.
A Natural Wordsmith
Shurlds, who earned a Bachelor of Science in journalism from Arkansas State University in 1969, came by her love of language naturally. She credits her 200-year lineage of lawyers and her well-spoken and literate family for her "ear" for grammar. She chuckled when telling the story of her Aunt Nancy, who left home during World War II to join the Coast Guard Women's Reserve, and her ill-fated romance. Upon returning home from the war, an attempt at rekindling the flame with a high school sweetheart failed when the young man used incorrect grammar when complimenting Nancy's beauty.
"There are some things you can't put up with," Shurlds said.
Nancy returned to school and later became a lawyer. She was one of only two women in her class at the University of Arkansas School of Law.
The Law is Real
Shurlds was admitted to the Arkansas Bar shortly after graduating from law school, but she never planned to practice law. She brags of having only three clients, three more than she ever wanted, in her 23 years as a licensed lawyer. As a mid-career journalist with solid professional experience, she knew she wanted to teach journalism at the college level. She knew achieving the goal required a terminal degree, and the time she spent at the University of Mississippi earning a master's degree in journalism left her less than eager to pursue a doctorate.
"Law is like journalism. It really happened. It's not theoretical," Shurlds said. "I got a master's in journalism, and I was miserable. Of course, when you get your master's degree, you end up doing data collection for your professor. He was studying violence on T.V. For six weeks, we had to get up at 7 a.m. on Saturday morning and watch four hours of cartoons and code the violent acts: man on man, man on woman, blue thing on yellow thing. I guess I'd just been a journalist for too long."
At age 44, armed with two degrees in journalism and years of practical experience as a reporter, photographer, editor and manager in print and broadcast media, Shurlds embarked on law school.
Constitutional Basket Weaving
"I knew I wanted to teach and one of the big parts of the instruction for me in law school was to watch other teachers. Jake Looney was, oh my God, such a good teacher, such a good teacher! And John Watkins, I enjoyed John Watkins."
Although the first year of law school was challenging, Shurlds welcomed the experience of learning to think and write in a new way. Her goal of teaching journalism after law school gave Shurlds the freedom to approach the curriculum with a more eccentric and independent style.
"I used to joke that I took Constitutional Basket Weaving in law school because I avoided all the [traditional courses]. I didn't take UCC, business law, family law – which is what you need to pass the bar. I still passed the bar. But I loved all of the Constitutional things. To be honest, really, it was the teachers. I took water law because Jake taught it my final semester."
Shurlds said she liked law school and found the information useful. She concentrated her studies on media law topics such as First Amendment, privacy and the Freedom of Information Act when possible. And, she uncovered one irreconcilable difference between being a journalist and preparing to teach journalism.
"I welcomed learning a different kind of writing. The interesting thing, and I didn't get this in my head until I tried – when I graduated and there was a position open in the journalism department that I wanted to apply for – I had to show some capacity for scholarly writing. I felt so uncomfortable drawing conclusions. Journalists don't draw conclusions. Journalists don't give their opinions. I couldn't do it. I could not do it."
A Strong, Caring and Gifted Teacher
Shurlds must have demonstrated a capacity for scholarly writing because she landed the job in the journalism department, realizing her goal of teaching in the field she loves. Her specialty, of course, is communications law but she has also taught courses in journalistic style and usage, photojournalism, editing for print publications, public relations campaigns and television documentary production.
"Katherine is a caring and gifted teacher," said Larry Foley professor of journalism and chair of the department. "She is demanding, yet has a soft touch for students who make the effort. No one in the history of our program has been more dedicated to journalism education. On a personal note, it has been a joy to work alongside of Katherine for the last 24 years. She is a dear friend. As my old professor Ernie Deane would say, 'I'd go to war with her.'"
The years she spent working as a reporter (to this day she carries a reporter's notebook), editor and manager serve as the bedrock for the content of each course she teaches. The legal expertise she gained in law school helps flesh out the more theoretical content. Students describe her as entertaining, tough and relevant.
"Media law was easily the most difficult class in my journalism coursework, but also the most rewarding," said Zeek Martin, one of Shurlds' former students. "Prior to that class, I thought I knew what it meant to be a journalist – but it wasn't until Shurlds explained the context behind so many historical cases that I fully understood the gravity of the profession and the implications surrounding the very act of reporting. She is cool, but she is such a strong-headed person. She will not give one bit of latitude on grades, even to someone with an 89 who is about to blow a 4.0 GPA."
A Thespian at Heart
Shurlds channels her love of teaching, professional expertise and flair for the dramatic into two community mainstays: "The Militant Grammarian" and the Northwest Arkansas Gridiron Show.
Shurlds is a regular guest on Ozarks at Large, a local news magazine produced by KUAF 91.3 Public Radio, Northwest Arkansas' NPR affiliate, appearing as "The Militant Grammarian." Shurlds and program host and producer Kyle Kellams engage in lively conversation while exploring words, punctuation, parts of speech, spelling rules and, of course, grammar. The long-time friends discuss correct usage and common misusages in tongue-in-cheek interviews. The segments have a loyal following.
"I get asked about her almost every day," Kellams said. "Our listeners love the segments and they love Katherine."
"People recognize my voice," Shurlds said. "So many people will come up to me, I mean, they will hear my voice and say 'are you the grammar Nazi?' That is what they usually say."
The Northwest Arkansas Gridiron Show, a joint production of the Northwest Arkansas Chapter of the Society of Professional Journalists and the Fayetteville Branch of the American Association of University Women, is another local favorite. Current and former journalists produce the spoof on local, statewide and national news to raise funds for journalism scholarships.
Shurlds has served as the show's producer for the past 13 years, a job that encompasses everything from having the piano tuned to recruiting performers. She also helps design props and costumes, leads the script writing process and performs in the cast. Shurlds excels at all tasks and her love for the show is evident.
"Katherine is a force," said Steve Voorhies, fellow Gridiron writer and performer. "She pretty much forces us to do this show. She's started delegating a lot of her producer duties – and it's taking three people to do all of those jobs. Of course she keeps a close eye on all three of them."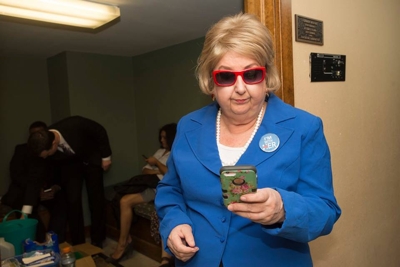 The Gridiron's Hillary Clinton is Shurlds' enduring role, and it seems she may miss her alter ego.
"We all thought Hillary was going to win. I was saying, well gee, I don't know if I want to play her another four to eight years, but I guess I will because I've been playing her for years. Now I am wondering if I will ever play her again."
Retirement is Just a Word
Shurlds retired from full-time teaching at the end of the fall 2016 semester but stays busy teaching journalism classes for the online journalism minor offered by the department. She also oversees the minor, which she helped create.
She continues planning and presenting "Militant Grammarian" segments. Shurlds may have stepped down as producer of the Gridiron Show, but has no plans to bow out – Hillary or no Hillary. You can bet Shurlds will be at the next writers meeting with her reporter's notebook full of ideas for the 2017 show.
Previous Alumni Spotlights