The Richard B. Atkinson LGBTQ Law and Policy Program
The Richard B. Atkinson LGBTQ Law and Policy Program
The Richard B. Atkinson LGBTQ Law and Policy Program at the University of Arkansas School of Law enables faculty and students to affect the quality of public discourse associated with the complex issues related to sexual orientation and gender identity law and policy. The program supports a variety of activities including research, service, teaching, speakers and scholarships designed to educate and affect LGBTQ law and policy.
Atkinson LGBTQ Law and Policy Colloquium
This Colloquium will host an annual series of prominent speakers who will present cutting-edge research and engage with both law and non-law students who enroll in it.
Recent LGBTQ Law & Policy Research
Learn more about law school faculty's research from "Contemplating Masterpiece Cakeshop" to "Framing Legislation Banning the 'Gay and Trans Panic' Defenses."
Dean Richard B. Atkinson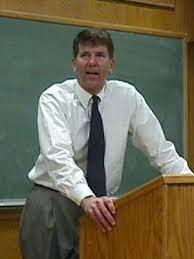 Richard B. Atkinson was the 10th dean of the University of Arkansas School of Law, and served from Jan. 6, 2003 until his unexpected death while attending the American Bar Association annual meeting in August of 2005. While on faculty, Atkinson was one of two faculty members selected by the graduating class to participate in the hooding ceremony at commencement virtually every year since the tradition began in the early 1990s.
Atkinson is repeatedly described as a kind, quiet and strong leader and processor, which could be partially due to his training. After receiving a Master of Divinity from Yale University, he stayed for a Juris Doctor. He was admitted to practice in Georgia, became an associate with the law firm of King and Spalding in Atlanta before former President Bill Clinton, a friend from law school, convinced him to move to Fayetteville. A tribute to his legacy and the Richard B. Atkinson Law and Sexuality gift from Michael Hollomon and Eric Wailes, which launched the program, gives an accurate picture, but reading the comments from his former students at the end of the article shows the depth of his impact.
"We observe that few areas of law and policy have changed as quickly or as dramatically as those regulating the legal rights of members of the LGBTQ community."
Michael Hollomon
Legacy Leader, Richard B. Atkinson Law and Sexuality Fund
"Michael and I hope this support will help shape and enhance the School of Law's academic and clinical programs to advance understanding of the law, especially as it pertains to the issues and challenges of law and sexuality."
Eric Wailes
Legacy Leader, Richard B. Atkinson Law and Sexuality Fund